Open Source Planter
At PrestaShow, on a daily basis, we develop eCommerce software that helps online store owners stay independent in a world where corporations are pushing back. Today we programmed a microcontroller and built a Planter - our first device! And we want to share it!
Visit us on:
Intelligent Plant Growing System
Planter was created by combining many branches of science and technology, so that everyone can take care of plants at home, on the balcony, in the garden, greenhouses and in the farm field in a modern way. Planter is a device equipped with intelligent software and sensors. With the Planter, you will integrate with your plants, take care of optimal conditions for their development and provide them with care when you go, for example, on a trip around the world.
Open Source - free and open code. NoCloud - fully private. IoT - Internet of Things.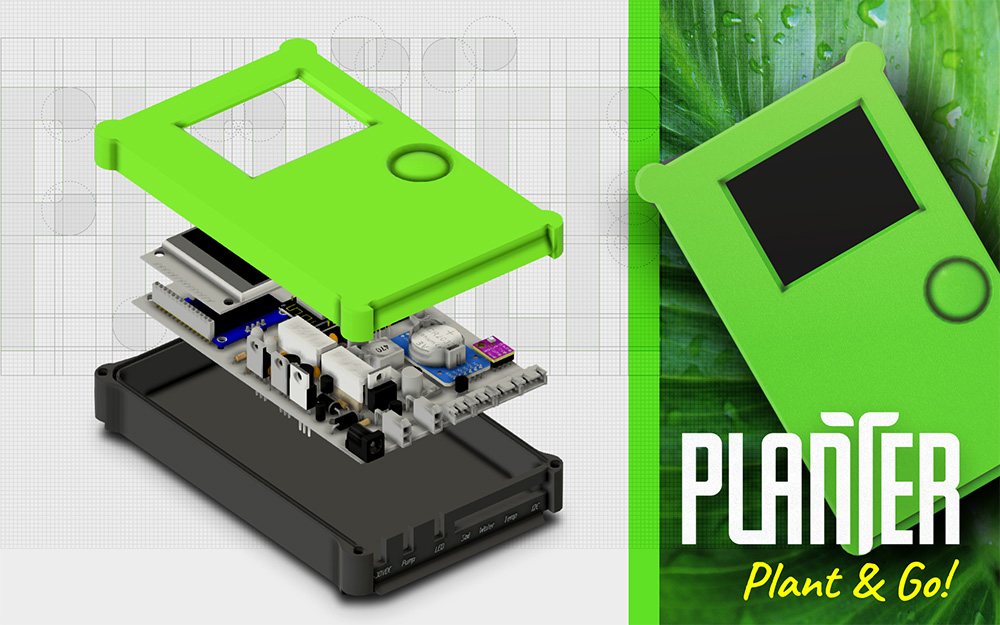 How is it built and what can it do?
Planter is modern electronics combined with smart software
You can buy Planter ready to use or you can build it yourself. With documentation, it is easy to assemble for anyone with basic electronics and soldering knowledge.
A small device with very low power consumption.
Built with 84 of the best-rated, publicly available electronic components that can be found in most electronic component stores.
The main microcontroller is ESP32 with a 240 Mhz 2-core processor.
It features a 2.8'' clear LCD touchscreen display, LED notification lights, buzzer, SD card reader, navigation button and 7 I/O connectors.
A 3-piece case that you can print in your favorite color on a 3D printer
The planter has built-in sensors that provide highly accurate environmental data, including soil, air, lighting and water parameters .
The Planter can communicate with remote, miniature, wired and wireless - self-contained sensors that study and process plant and environmental parameters even over hectare-sized areas.
The Planter analyzes the data collected by the sensors and takes the actions you have planned.
The planter communicates via WiFi, radio and GSM-SMS. If you value peace and quiet in the ether, you can disable wireless communication.
You can control all Planter settings and tasks remotely from the Admin Panel, which uses the latest microcontroller programming technologies and allows you to control the Planter from your phone and computer.
With the Planter you can run devices of up to 36W and control (12V) the operation of pumps, lighting, ventilation, dehumidification and humidification, heating, curtains and other devices that you use in growing plants.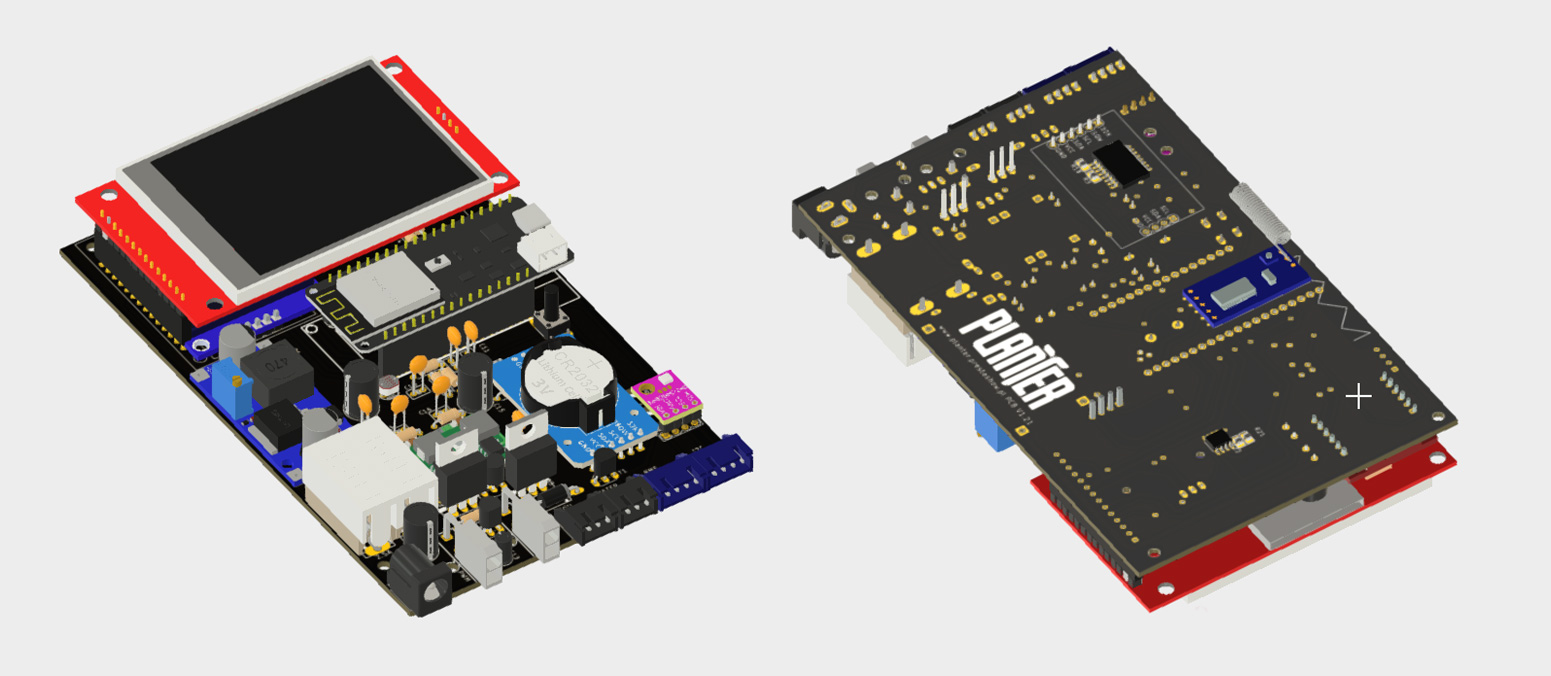 Admin panel - managing the Planter
Basic communication with the Planter is via WiFi. The Planter can connect to your network or you can connect to a HotSpot created by the Planter. You can control the Planter on smartphones and laptops that have Wi-Fi and a web browser: iOS, Android, Linux and Windows. The Admin Panel is available in the form of a modern website, through which you can configure, read and analyze the collected data.

Multitasking in one place
Planter's software is very flexible. The administration panel allows you to read and analyze * temperature * humidity * light parameters * weight * atmospheric pressure * tank water level * and * soil moisture * from an infinite number of sensors. Based on the collected data, you can control:
Irrigation
Lighting
Temperature
Humidification and dehumidification of the air
Ventilation
And other devices that you use in your cultivation
Using the Planter's hardware capabilities, you can connect any sensor that has a signal output, such as for measuring * air quality sensors * pH and EC levels for soil and water * photosynthesis performance * motion sensors and photocells * or * PAR * , and then create automations for them, or use the resources of our development team and order any customization.
Gather and analyze the collected data to create ideal conditions for your plants, in any environment.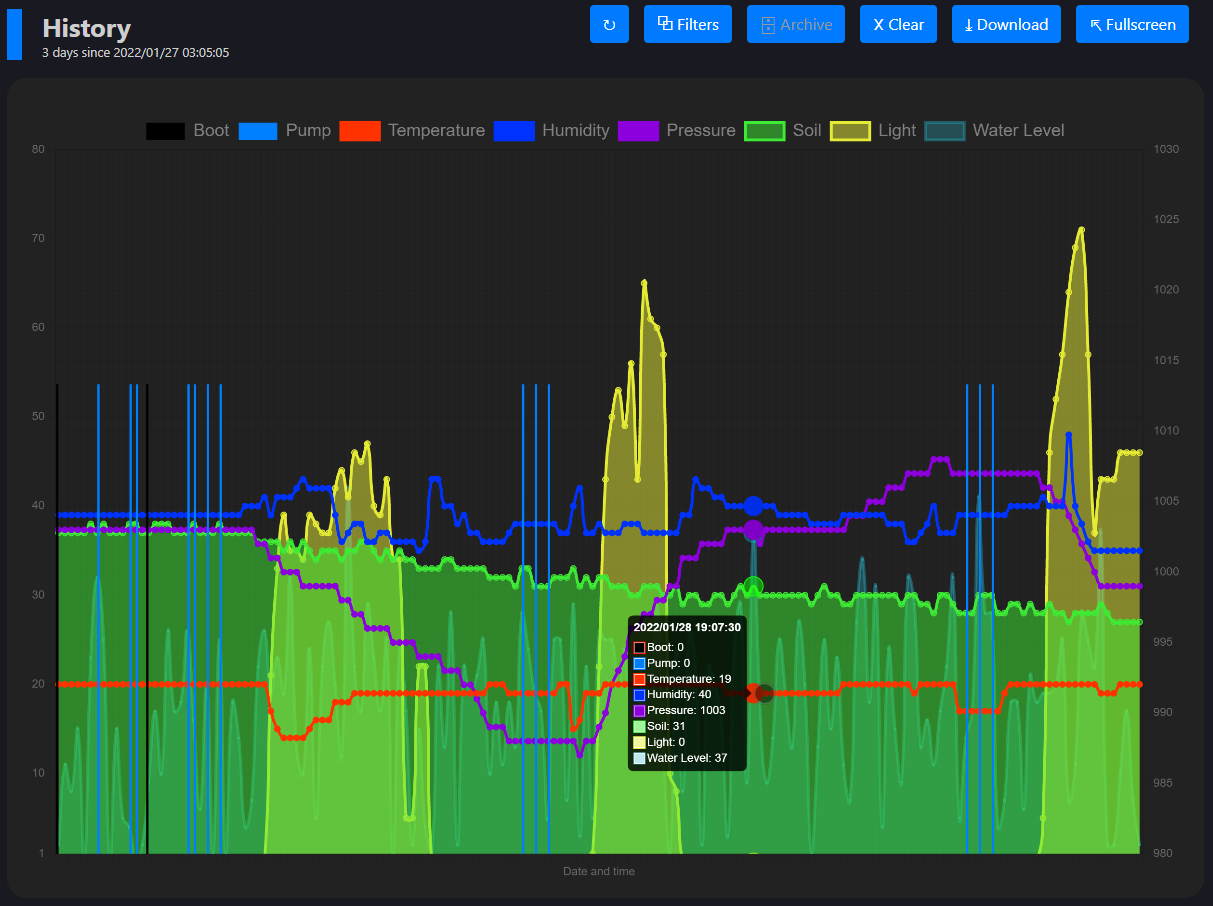 For plant lovers and novice growers
Create the optimal microclimate for vegetables in the greenhouse, grow tomatoes on the balcony, manage a green wall in the living room or hydroponic cultivation....
Open Source Planter is a device ready to integrate with your plants. Connect soil and water sensors and any micro-irrigation elements. Turn on the Planter, punch in your settings following the directions on the display and in the Admin Panel. The Planter will take care of the rest and present you with the results of its work.
We are developing Planter to make it easy to use for everyone. The direction of development of the device and software is set by the community, including professional growers and scientists.
In order to efficiently deliver new features and improvements to all users, we have equipped the Admin Panel with a 1-Click Update firmware update system.

For hobbyists and do-it-yourselfers
The Planter has been prepared for students and self-taught people taking steps into the world of plant cultivation, electronics or programming. By assembling Planter on your own, you will become proficient in soldering, learn SMD technology, professional measurement, calibration and communication methods, and good object-oriented source code for microcontrollers and web applications, among other things.
If you are involved in growing challenging plant species, conducting a science experiment or learning electronics and programming, we will be proud if our device helps you grow. Explore, gain experience and follow your dreams!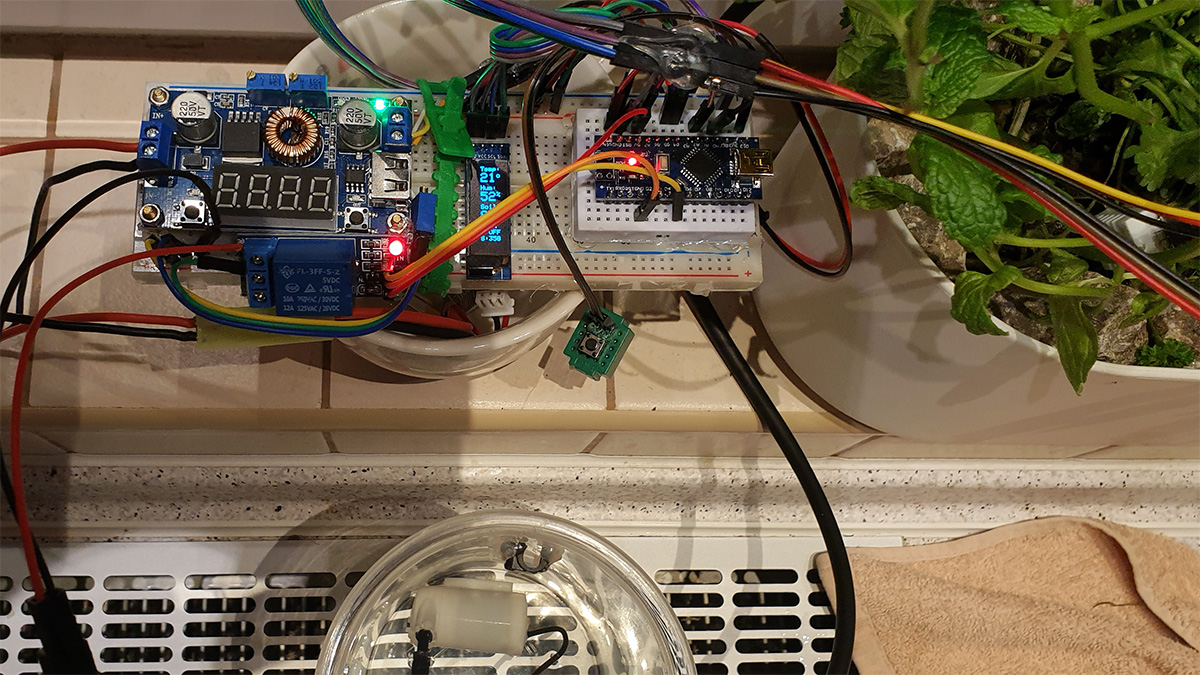 For professionals
We designed the whole thing to increase the functionality (UX) of the solutions available on the market and free up expensive technology. Forget about meters of cables, sluggish climate computers and complicated installation.
Planter will help you precisely control plant breeding at any scale and integrate with any algorithm:
Laboratory and experimental crops
Cover crops, tunnels, greenhouses
Cultivation in the field - fields and orchards
Cultivation in soil and substrate
Hydroponic crops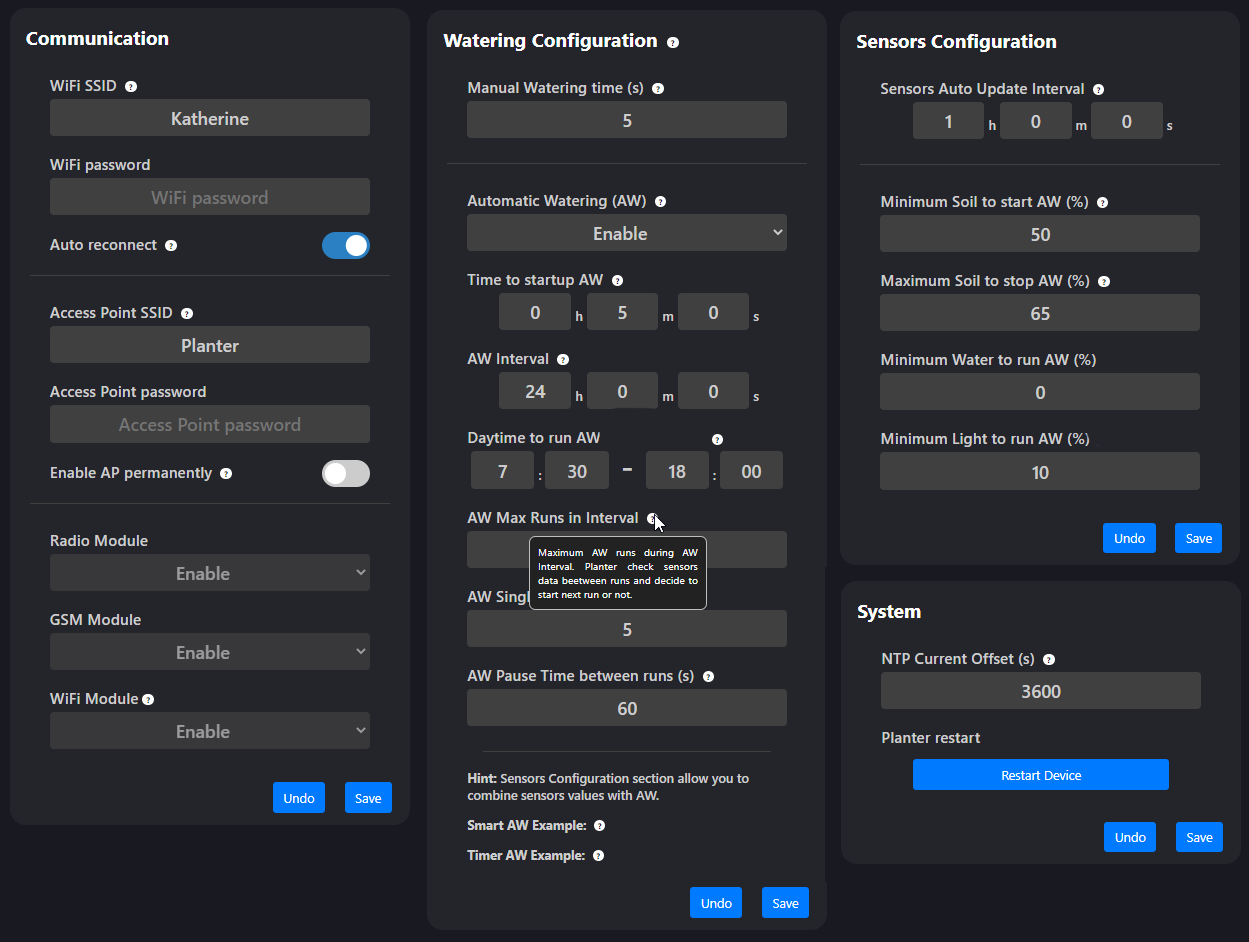 Open source code
Schemes, thousands of lines of source code, hundreds of tests, comments and documentation will be available on Git. If you want to modify the system or develop it with us - go ahead!
Electronic board design, schematics and models were prepared in

AutoDesk

software

.

Admin panel and database application (/data) use NodeJS, Svelte, TypeScript, HTML, CSS and ChartJS components.
The microcontroller core is written in OOP C++, EspAsyncWebServer and uses our proprietary Web Controllers System.
The back-end is equipped with an API with which you can communicate with devices, sensors, settings and data collected by the Planter. This allows you to, for example, integrate Planter with home automation.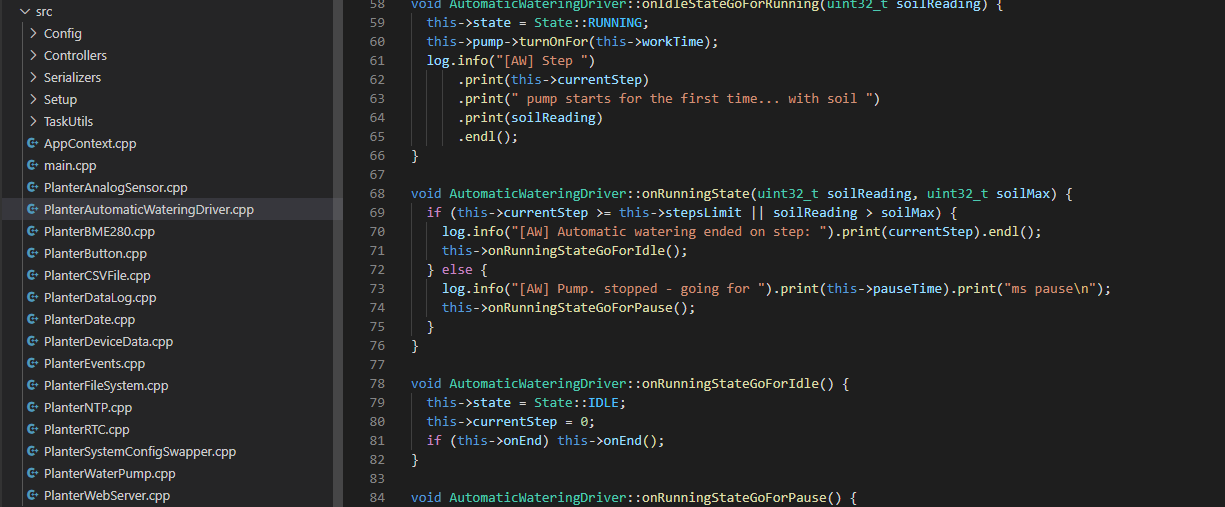 What's next.
We are currently working on a parts list and instructions for assembling and operating the Planter Open Source. We are also implementing fixes and improvements reported by testers and friends of Planter.
Q2'22 - we will make Planter Open Source available to everyone in the World!
Q3'22 - we will unveil a new version of software and hardware - Planter Commercial. Even your grandmother will like it :)
Q4'22 - totally wireless, multi-purpose remote sensors and monitoring, which will quickly and efficiently enable you to create a Smart Sensory Plant Breeding Network under any conditions (you will be shocked!:)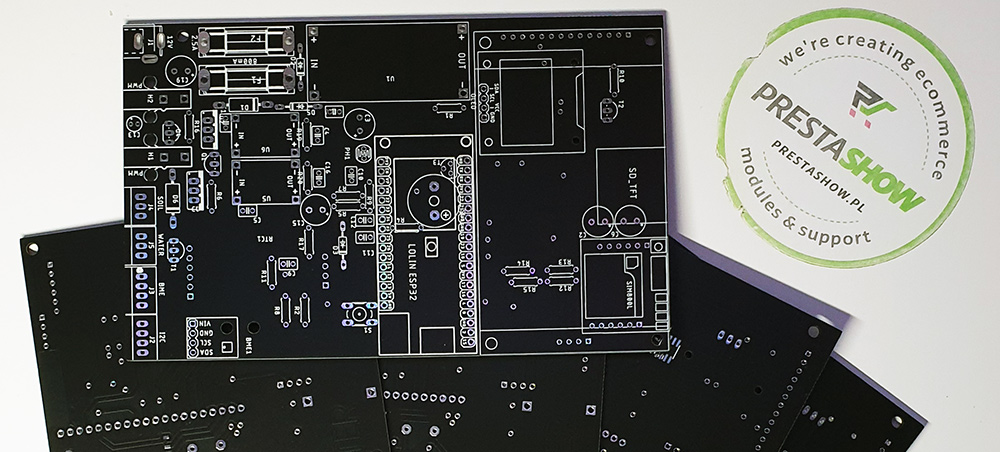 Did you like Planter?
What you have read is just the tip of the iceberg!
Planter will reinvent plant growing and make plant lovers and farmers, more independent, anywhere on Earth. To stay up to date and not miss the Planter launch, like us on
Planter does not use financing. There are no sponsors and no investors. We create it so that everyone can get closer to nature and be independent. This vision drives our activities. Therefore, we will be obliged to use your support to the best of our ability.
You can donate to Planter's development via PayPal: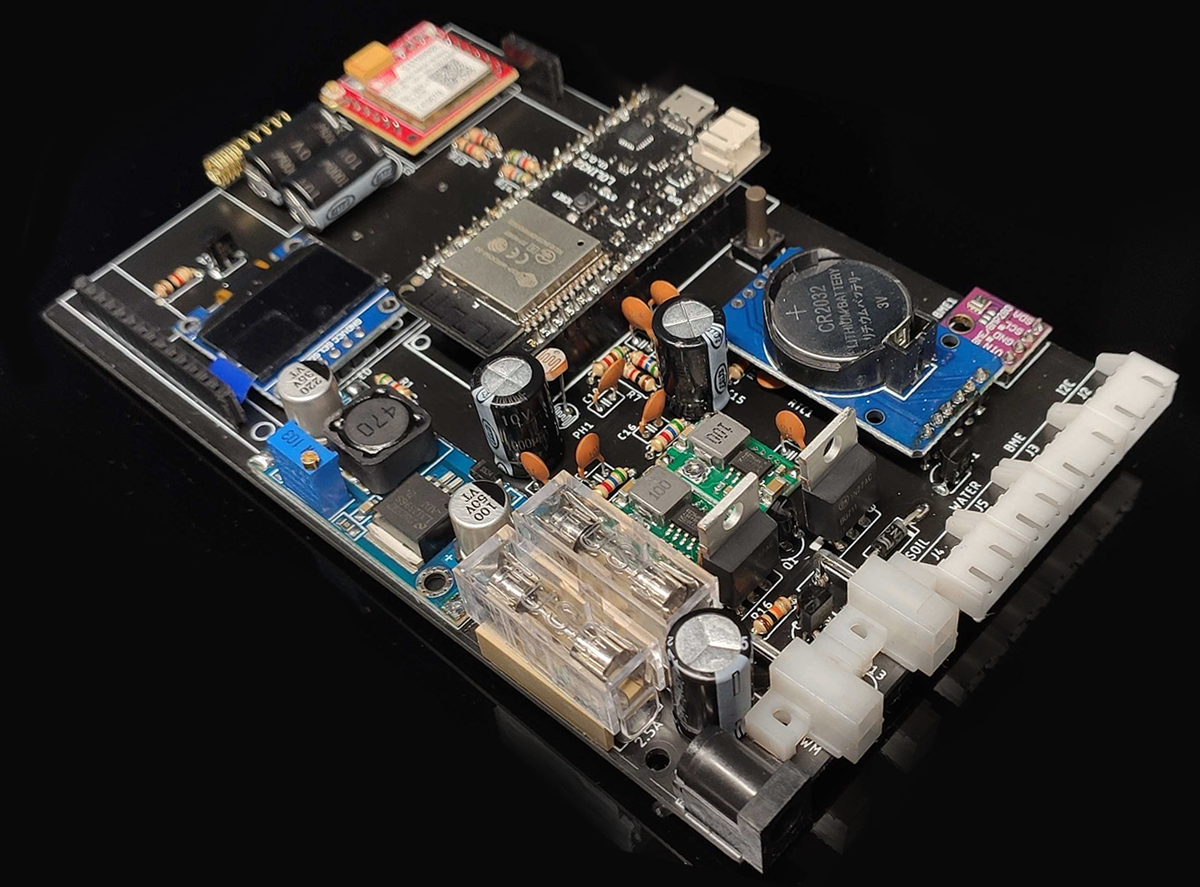 If you are an electronic parts supplier and want to be a Planter distributor
If you want to automate your farming or experimental activities, but lack data
If you want to leave your garden and flowers taken care of when you go on vacation
Planter changelog
We have been keeping a changelog since May 2021. We always release the next versions of the software at the end of the month. The changelog contains all the improvements made to the source code in the meantime.
We have divided the changelog into two parts:
Web - or Admin Panel. It contains all the elements you can unclick on the web page to customize Planter's operation.
Device - the source code of the device.
{Planter_changelog}