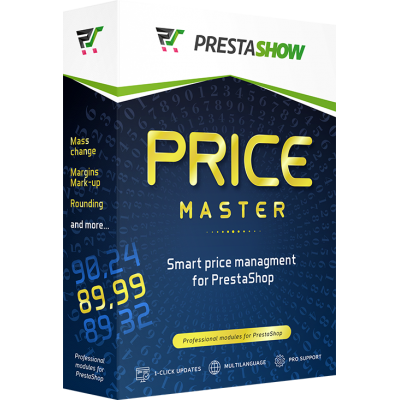 Demo
Documentation
Download trial
Trial is a free, full-featured module with a 14-day validity period
To download Trial you must be logged in
Trial is not covered by technical support
After 14 days Trial module will automatically uninstall itself from your store
PriceMaster will speed up your work with all types of prices in PrestaShop .
Indicate a range of products according to any criteria, and then choose the operations you want to perform on the prices of the selected products.
Increase and decrease in bulk the net, gross and wholesale prices of products and combinations
Add markups or mark-ups
Round prices freely
Generate promotional and specific prices
The module includes a step-by-step wizard that will allow you to create price modifiers. A modifier consists of the selected products and the operations that will be performed on the prices of the indicated products.
Then create price modifiers for the selected products
With modifiers, you can quickly adjust the prices of your products according to your needs, the supply in the market or according to the current competitiveness.
Example modifier:
For the wholesale price of products from the "Accessories" category of the "Sony" brand.
From the price range of EUR 3-25
Add a margin of 120%
Save the new price, as a net price
Round the net price up to .99

Activate price modifiers one at a time
Change prices of products and combinations in your store instantly.
Run price change periodically
Each modifier gets a link to CRON, which you can trigger, for example, when there are new products added manually or coming from XML, API or ERP integration.
Smart management of multiple modifiers
If multiple modifiers apply to the same product, the modifier that is higher in the list will work.
Margin and mark-up
The module detects price changes in your store and can cover with scheduled modifiers products whose price will change, for example, due to price updates from XML or API.
You can assign markup and mark-up to individual products. Use this feature, for example, for products that sell best or that have a lot of competition in the market and every penny counts.
Price modifiers given to products individually rank higher than bulk modifiers.
For products priced at EUR 0-10, set a margin of 50%.
For products priced at EUR 10-30, set a margin of 25%
For products priced above EUR 30, set a margin of 10%
Mass price modifier
You can change the purchase price, net, gross and unit price, up or down, percentage or amount, to the selected products and combinations.
Generate specific and promotional prices
Specific pricing is a standard feature of PrestaShop. With specific prices you can create multiple prices for one product.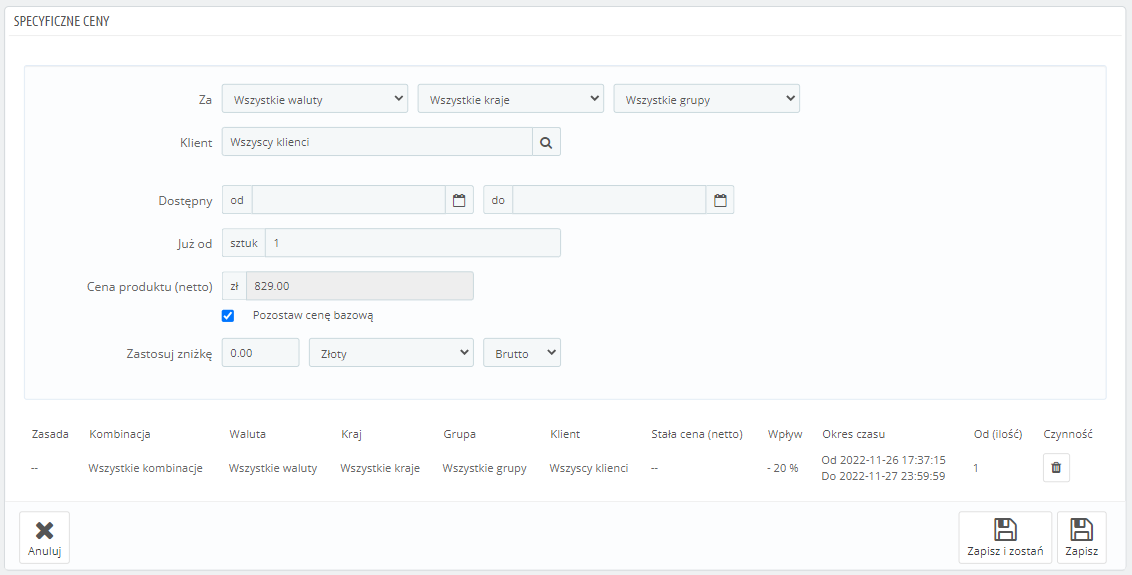 The module will allow you to generate specific and promotional prices in bulk for multiple products and combinations. You can generate product specific prices based on purchase price, net or gross. When generating specific prices in bulk, you can take into account all criteria available in the PrestaShop specific pricing standard.
Specific price available only for a selected group of customers
Specific price dependent on the country or currency of the buyer
Specific price - promotional, available for a specific period of time or for a specific group of customers
Product prices quoted in currencies, excluding exchange rates
For each product and combination, you can set its price in any currency enabled in your store. This will help you avoid moving prices generated by currency exchange rate changes, or match prices to a specific market.
To assign individual prices in currencies, go to edit the product and then to Modules > PriceMaster.
Individual price operations
Automate the price of a specific product
PriceMaster in product editing
In the product edition, in the back office, go to the Modules > PriceMaster tab. There you will set the markup, mark-up and enter the product prices directly in the currencies that are enabled in your store (ignoring exchange rates).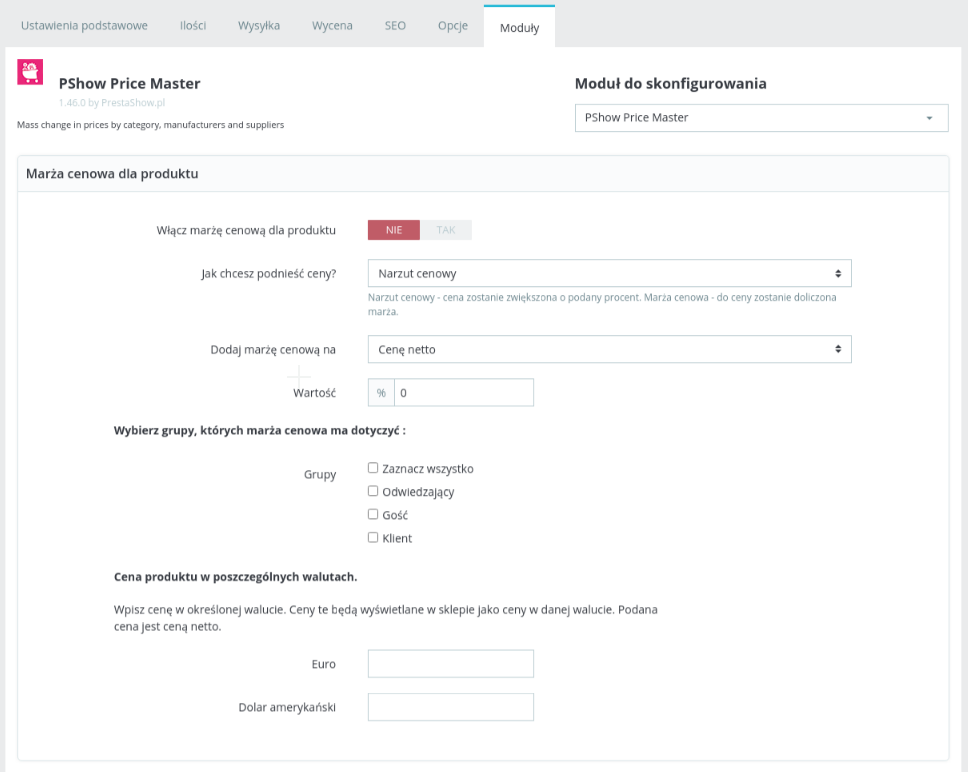 PriceMaster on the product list
Enable in the module an additional column on the product list with margin or markup. This allows you to quickly edit the markup or mark-up for the products visible in the list. The change saves automatically, as soon as you enter it.
Purchase price is a standard field in PrestaShop where you can enter the price at which you buy a product.
Your store's customers don't have access to this price, but you can use this field to keep sales statistics and calculate other product prices.
PrestaShop 1.6: Wholesale price
PrestaShop 1.7 and 8.x: Custom cost
If you don't use the field for the product's purchase price, then you can use the module's function that copies the net or gross prices of the products to the wholesale price field .
Based on the wholesale price, you can generate net, gross, unit and product-specific prices and combinations, raising them conveniently by margins or markup.
If you use CRON, PriceMaster will detect price changes made by external integrations in your store's database.
In the module, you will create discount codes that will reduce the margin on the product, not the price ofthe product.
This way you will always sell discounted products at a profit. Use this solution in your offer to B2B customers.
Set the name, available quantity and expiration date of the discount code.
Combine the code with the created modifier for margin or mark-up.
A code with a markup of 7% will reduce the value of the product's markup / mark-up from 12% -> 7%, for example.
When creating a price modifier, you can choose which mode you want it to work in.
Mode: price changes visible everywhere
Price changes take place in the database. In this mode, you are guaranteed uniform prices in the store and in integrations that use the database, such as ERP, Amazon, XML feeds for integrations with Google Merchant Center, Facebook Marketplace and others.
Mode: price changes visible only in the store
Price recalculation takes place in the customer's browser moments before the page loads. The price in the database does not change, a process that is unnoticeable to the customer. This mode is useful when you want to run a promotion only in the store, without changing prices in the database used by external integrations.
With the "Store only" mode, you can store different prices in the database and display different prices on the store.
Statistics
Before each price change, the module will show you statistics about the products for which prices will be changed or generated, and ask you if you are sure you want to start the process.
Work log
Every operation performed by the module is saved to a log file, which contains the product code and the price before and after the change: :
Operation #3221: PRODUCT_CODE: 100 EUR -> 95 EUR (-5%).
Backup and restoration of prices
Before each operation, the module performs an encrypted backup in all database tables that store pricing information. Copies are available in the module and you can restore prices from any period at any time.
Support and updates
You can use the module indefinitely - the license is lifetime.
You get 3-month access to Premium Support for the module.
Premium Support gives you access to HelpDesk and to module updates.
You can enable access to Premium Support at any time by purchasing any of the available packages
Module updates
90 days
Modules will inform you of an available update directly in your store. Take a look at the changelog. You will update a module conveniently with 1-click.
HelpDesk support
90 days
HelpDesk is a panel where we provide help for modules. On HelpDesk you can order modifications and custom programming work.
Knowledge Base - FAQ
Free
The knowledge base is free and available to everyone. You will find module documentation and answers to frequently asked questions.
License
Below is a summary of the most important information:
License - main domain and secondary domains
You can assign module licenses to 1 store = 1 domain.
You can add a secondary domain for a test store.
You can use the module without time limits.
Changing the main domain is possible - for this purpose, please contact us.
Multistore domains
Support of unlimited number of domains in PrestaShop Multistore requires purchase of multistore support for the module.
Modifying the module code
The module code related to store integration and appearance (.tpl, .css, .js) has open source code and you can modify it freely. The module source code (.php) is encrypted with ionCube.
Demo
You can test some modules in our demo store. You can find the link to the demo store in the top section of the page
You can test some modules for free by downloading 14-day Trial .
If you have any problems with the operation of the Demo or Trial version, please contact us