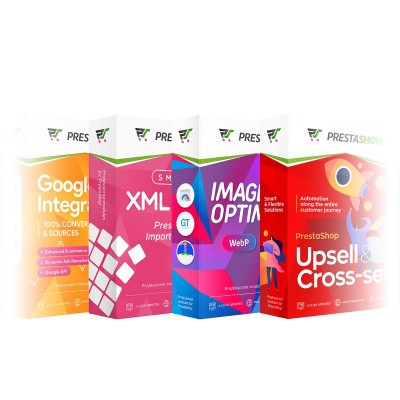 You can buy the module with Multistore support together or buy the Multistore support alone later (on this page)
You will be able to assign the purchased Multistore support to one arbitrary module in your account
Multistore support will allow you to configure the module independently for each store or group of stores in PrestaShop Multistore
PrestaShop Multistore
PrestaShop Multistore is a standard feature of PrestaShop 1.5, 1.6 and 1.7 and you can enable it in your store admin panel.
Multistore is one PrestaShop installation and one admin panel to support multiple standalone or related stores visible online. Each store in Multistore can have its own domain, independent template, products and configuration and content added in modules.
PrestaShow Multistore modules
All our modules support PrestaShop Multistore. Multistore support is an additional fee and can be purchased right away with the module or later, on this page.
Without Multistore support, the module will work with only one PrestaShop Multistore store.
With Multistore support, you can configure the module in any of the Multistore stores
How to enable the purchased Multistore Support
Make sure your account has the module you want to make it work in Multistore
Buy Multistore Support
Go to your Account and assign the purchased Multistore Support to the module
The module will automatically detect the purchase and start working in your Multistore
In case of problems, open a ticket on HelpDesk.
Technical requirements
Minimum requirements for all modules
PHP 7.1 or higher
ionCube server extension
Nginx or Apache server
MySQL >= 5
PrestaShop Importer only: PHP libxml version > 2.9.3
PrestaShop Facebook Integrator only: PHP 7.2 or higher
Optional performance optimization extensions: mcrypt, openssl, zip, curl, gd, pdo, varnishd, mod_pagespeed, memcached, apc
You can read more about the requirements in the knowledge base.
Support and warranty
Benefits of having technical support
Along with the module, you get 3 months of technical support and access to updates. When the time expires you can continue to use the module. You can renew access to support and updates at any time by purchasing any of the available packages. One package always covers the entire domain and the modules assigned to it.
Knowledge Base (FAQ)
The knowledge base is located on HelpDesk, it is free and open to everyone. In it you will find module documentation and answers to frequently asked questions.
HelpDesk panel
This is a convenient panel for communication, on which you will receive help with the installation and configuration of modules, order individual module development and any programming and optimization work for the store and server.
Moduleupdates
Modules will inform you about new updates. You will make module updates directly in your store with 1-click
PrestaShow modules use license
PrestaShow modules use license
You can find the full content of the license on this page. We have described the operation of the license handling system on this page. Below is a summary of the most important information:
Domain and additional domains
You can assign the module after purchase to 1 store = 1 domain. You can use the module in the domain without time limits. You can add a test/developer store domain to each domain for free. Support for domains in PrestaShop Multistore requires the purchase of
multistore support
for the module.
Changing the domain
Changing the domain is possible. For this purpose, please contact us.
Code modification
The module code related to the integration with the store and the appearance (.tpl, .css) is open source and you can modify it freely. The module source is encrypted with ionCube.
Demo
Test in the demo store

You will find the link to the demo store of this module in the top section of the page
You can change the language of the demo store and the language of the module (EN, PL, DE, ES, IT, FR) using the top menu of the demo store
The demo will be automatically deleted after 48 hours
In case of any problems with demo store operation - please contact us