With this module you can assign a given category to several other categories. When editing a category, you have the ability to choose inside which categories a clone of the currently edited category should be created.

You can place a category with its subcategories in multiple places in the category tree
Categories are automatically synchronized - category information (name, description, etc.) and products assigned to the category
Possibility to change the category position independently in each location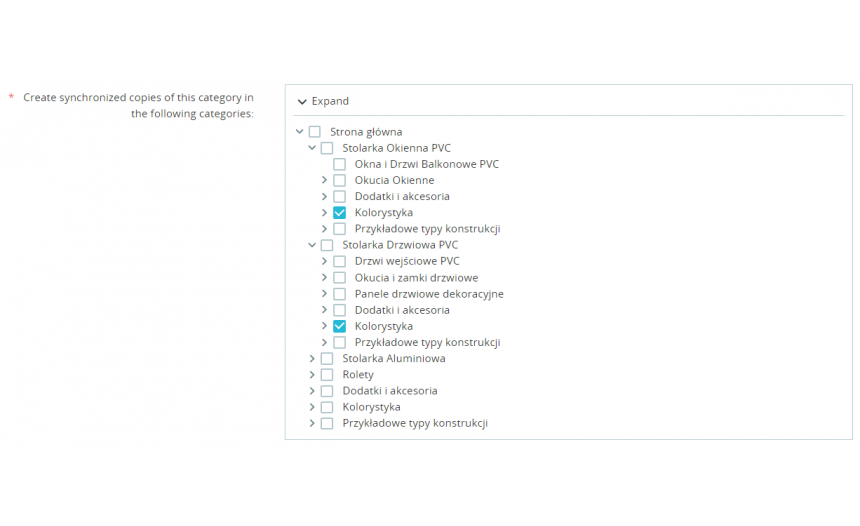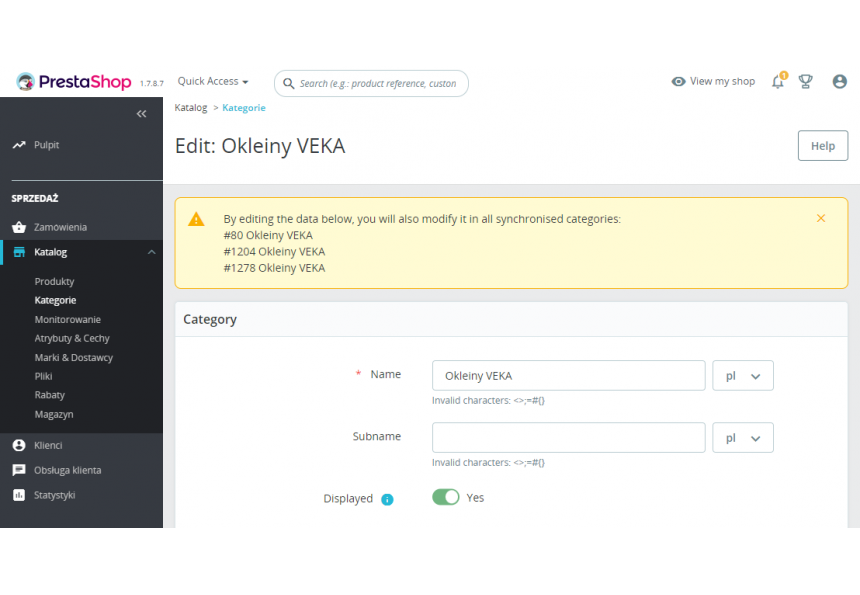 Go to edit the category: "Door Carpentry > Add-ons and accessories > Mosquito nets".
An identical category is needed inside: "Window joinery > Add-ons and accessories".
In the category "Window joinery > Add-ons and accessories", the category "Window joinery > Add-ons and accessories > Mosquito nets" will be created.
After this procedure, there are two identical categories:
"Door Joinery > Add-ons and Accessories > Mosquito nets".
"Window joinery > Additions and accessories > Mosquito nets".
The two categories are synchronized with each other - an edit in one also makes changes in the other, and vice versa.
The description and images of the category, as well as its subcategories and product assignments are synchronized.
Support and updates
You can use the module indefinitely - the license is lifetime.
You get 3-month access to Premium Support for the module.
Premium Support gives you access to HelpDesk and to module updates.
You can enable access to Premium Support at any time by purchasing any of the available packages
Module updates
90 days
Modules will inform you of an available update directly in your store. Take a look at the changelog. You will update a module conveniently with 1-click.
HelpDesk support
90 days
HelpDesk is a panel where we provide help for modules. On HelpDesk you can order modifications and custom programming work.
Knowledge Base - FAQ
Free
The knowledge base is free and available to everyone. You will find module documentation and answers to frequently asked questions.
License
Below is a summary of the most important information:
License - main domain and secondary domains
You can assign module licenses to 1 store = 1 domain.
You can add a secondary domain for a test store.
You can use the module without time limits.
Changing the main domain is possible - for this purpose, please contact us.
Multistore domains
Support of unlimited number of domains in PrestaShop Multistore requires purchase of multistore support for the module.
Modifying the module code
The module code related to store integration and appearance (.tpl, .css, .js) has open source code and you can modify it freely. The module source code (.php) is encrypted with ionCube.
Demo
You can test some modules in our demo store. You can find the link to the demo store in the top section of the page
You can test some modules for free by downloading 14-day Trial .
If you have any problems with the operation of the Demo or Trial version, please contact us