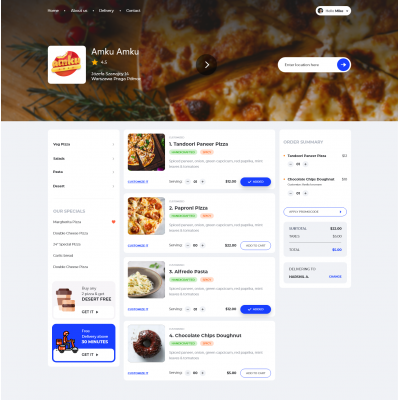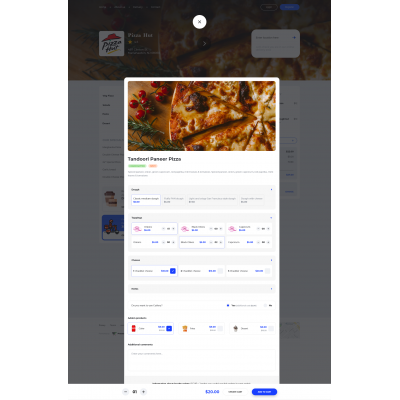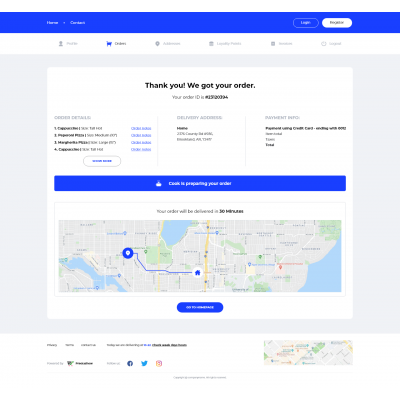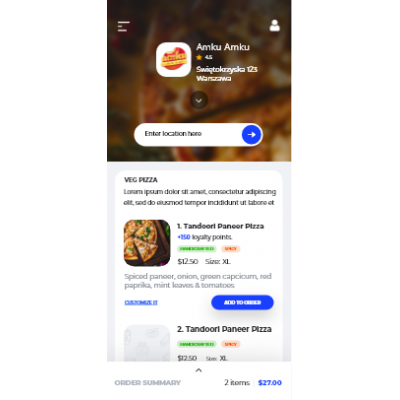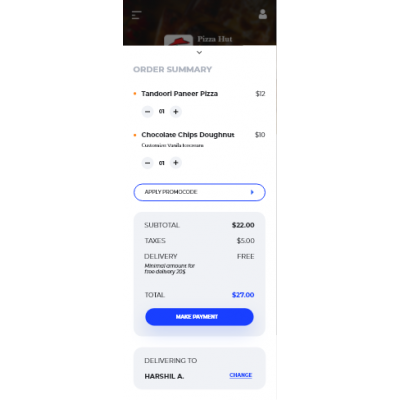 Zero commissions, payments immediately to your account
Fixed monthly subscription, cancel whenever you want
Ultra-modern system in the form of a website
Beautiful presentation of your restaurant and menu on computers and phones
Includes all the necessary functions to run a gastro business and sell on the Internet
Simple and complex dishes: modifications, half and half, add-ons, sets, promotions, discounts, upsell, crossell...
Restaurant opening hours, hours of availability of dishes and dish categories
Deliveries: pick-up at the point, free and paid delivery zones, InPost Door-to-Door and fridge machines
Payments: on delivery, online, BLIK, Apple Pay, Google Pay
AMKU AMKU - PREORDER
Amku Amku system is available for pre-order until the release date
Planned release date: 2022-07-01
You will receive an invoice after you pay for your preorder
Buying 1 monthas a preorder - you get full access for 12 months!
Run your gastro business on the Internet with Amku Amku!
The system prepared for your every move connected with production, sale and delivery of food
Modern, fast and easy to use. Amku Amku was built using the latest, globally popular technologies. It is fast, transparent and easy to change and expand.
Commission-free. We will never charge a commission on your work! You always use Amku Amku as part of your subscription fee and you can cancel whenever you want (but you won't!:)
Flexible. Customer service, orders, delivery zones, promotions and discounts, loyalty points, invoicing and receipts, dish modifier and creator, opening hours and delivery and much more...
What we value most in Amku Amku is independence
Amku Amku was created to give you freedom from corporate solutions and half-measures.
Focus on creating exquisite dishes. Leave the rest to Amku Amku. No commissions.
Amku Amku is an ultra-modern system in the form of a website that is even more convenient and accessible than the mobile app.
Amku Amku includes all the tools and functionality you need to run a gastro business online.
You can connect your own domain to Amku Amku, insert your own logo, set colors, banners, descriptions, delivery zones and flexible menus with promotions and discounts.
You can integrate Amku Amku with ANY external system and device you use at work.

Complete system closed in a convenient panel
We don't meddle in your business, and we designed the whole thing so that you can operate it all in 1 panel.
Amku Amku is a complete system that has everything you need to independently run online gastro at the highest world level:
Don't worry about technical issues. The whole system is maintained on a fast and secure server infrastructure.
Your data, orders and customers are not processed by anyone. Only you have access to your database.
You can operate Amku Amku on a computer, laptop, tablet or any touch screen.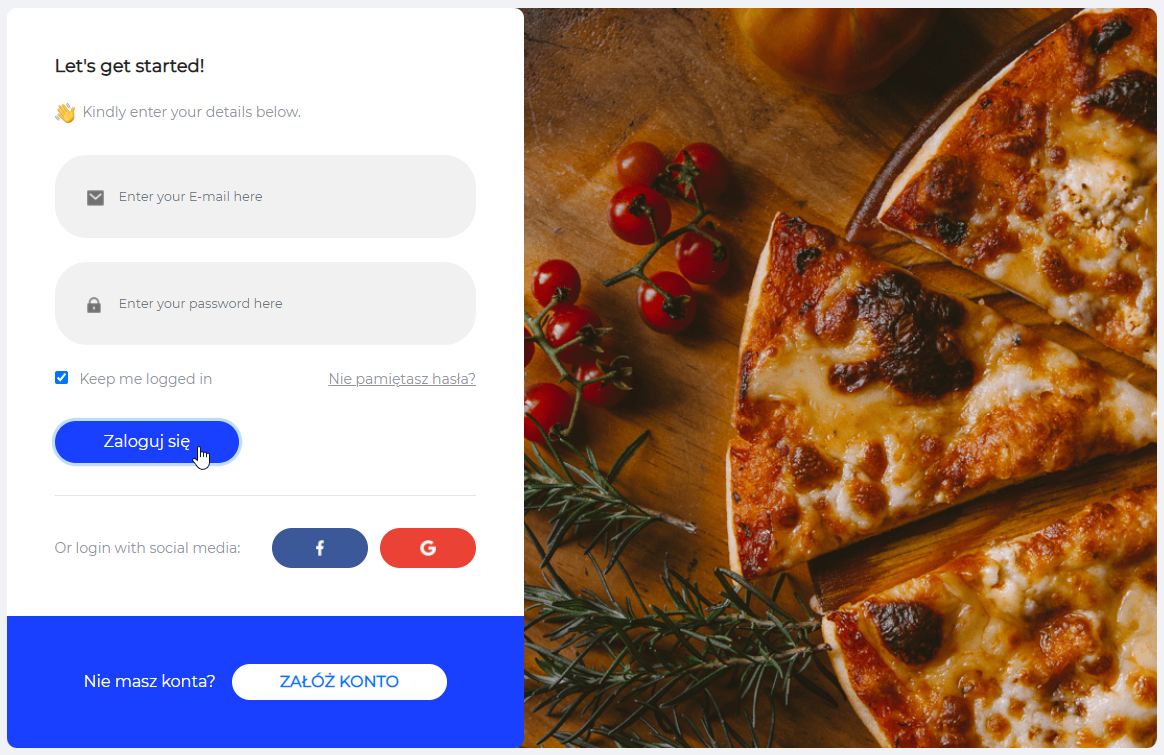 Beautiful presentation of your offer
Amku Amku was designed by the best UX and UI designers. This will be appreciated by your customers, who will remember that your restaurant website is convenient and allows them to place a quick order.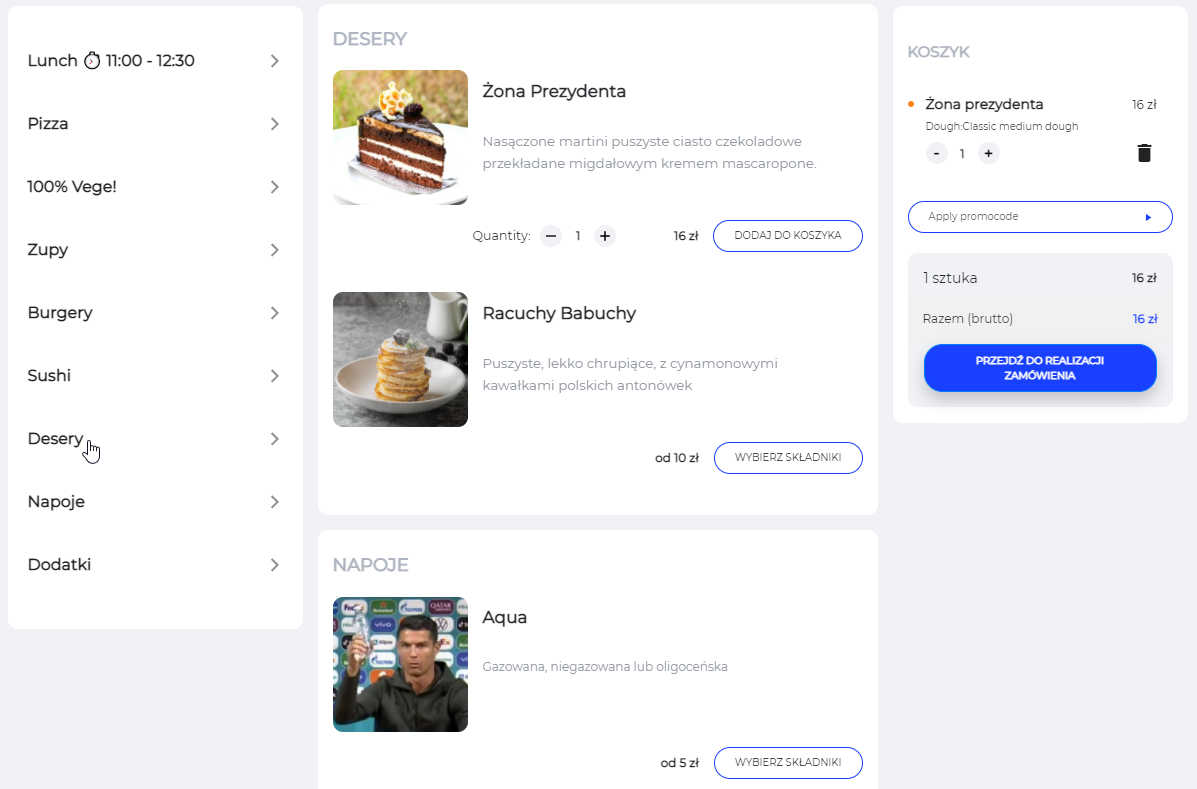 You can identify each element of Amku Amku with your brand
Your logo, colors, name and images
Your own domain or use our domain, e.g. amku-amku.pl/pizza-square
Your descriptions, contact methods, locations on map
Opening hours and delivery times - on site and takeaway
Hours of category and dish availability - breakfast, lunch, entrees of the day, etc.
Flexible menus, any supplements, sets, promotions
Customizable zones and delivery costs on an interactive map
Instant online payments in PLN, EUR, USD or GBP, payment at the restaurant or on delivery - always straight to your account
Automatic website and menu translation in any 3 languages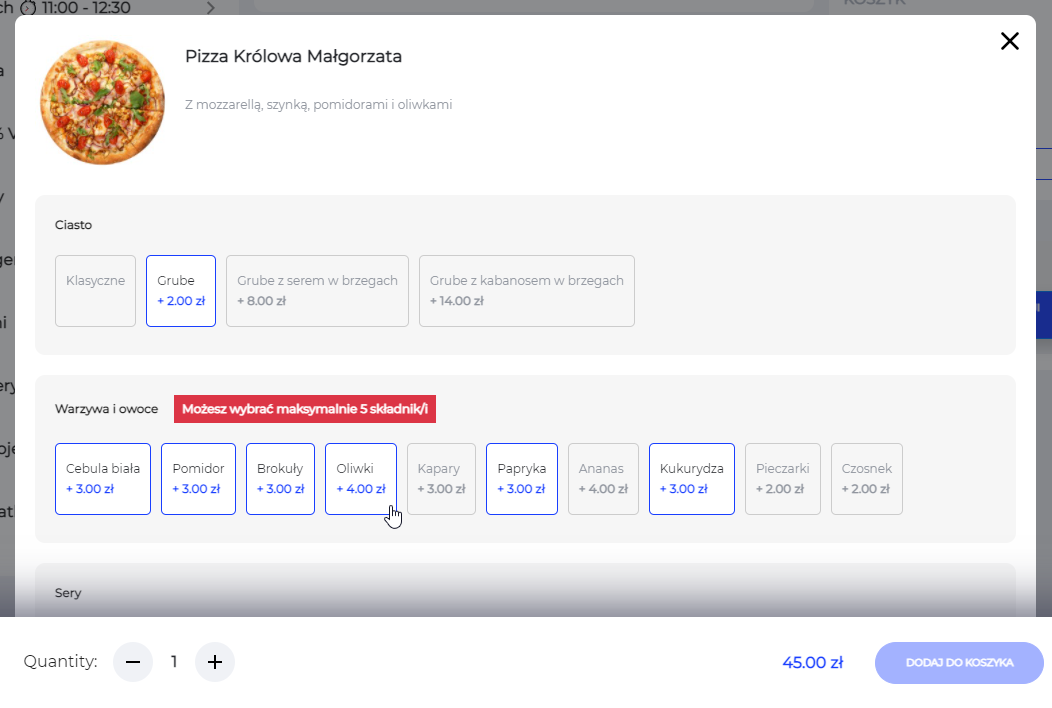 Payment methods
Payments for your purchases go straight to your account. You can accept any of the following payment methods:
Classic transfer
PayPal
PayU
Przelewy24
Blik, Apple Pay, Google Pay
Credit card payments
Payment on delivery
Payment on premises
Delivery methods
You can handle deliveries on your own or by integrating with external logistics services.
Create your own delivery zones (free and paid) on the map
Personal collection in restaurant or point of sale
InPost Pick-up Service
Door-to-Door InPost delivery
Possibility to integrate with any courier company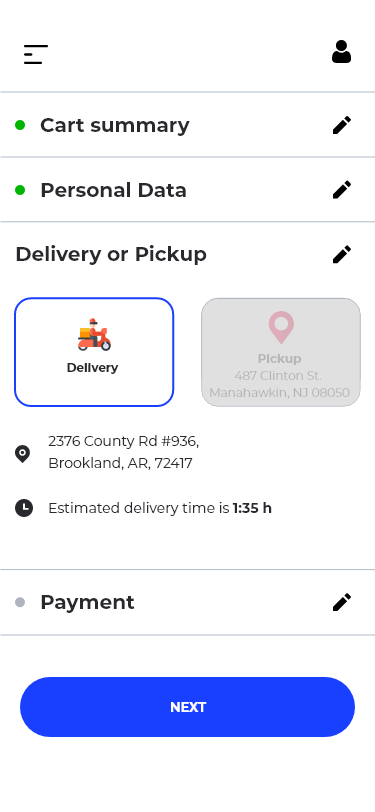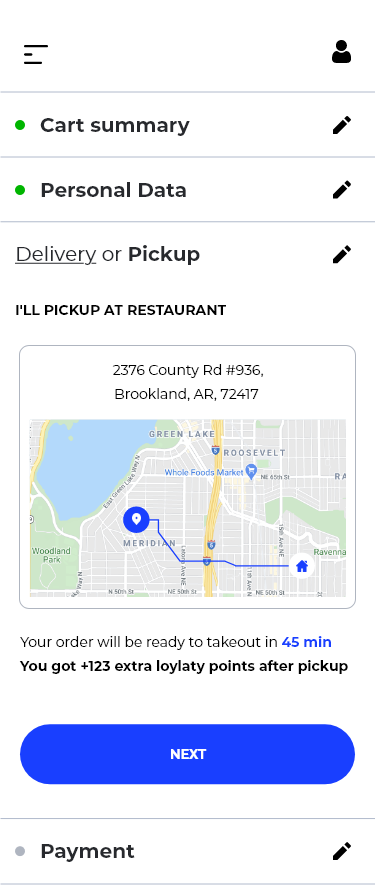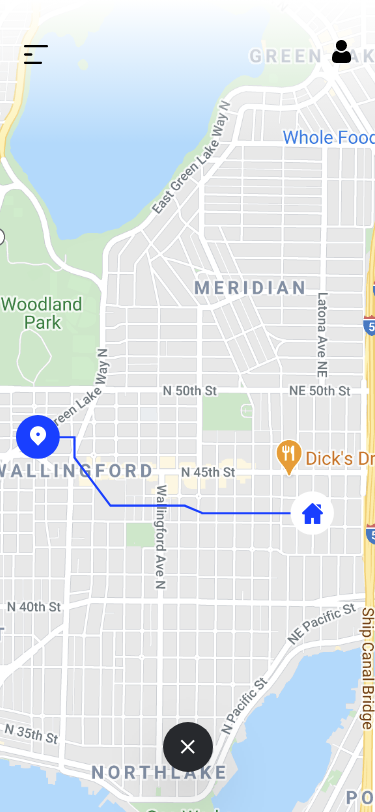 Application for suppliers
Your suppliers can log into Amku Amku via the website on their phone. There they will find the current delivery queue. One click will allow them to take an order and change the order status.
Menu Builder
In the Admin Panel, you will find a convenient system to manage Menus. Set prices and surcharges, assign additional ingredients, create sets. Half-and-half pizza, different sizes and combinations... You set your goals, and then enter them into the Amku Amku Menu by yourself. No limits.
Flexible creator of simple and complex dishes
Base prices and surcharges
Massive ingredient update
Dishes available by day and time
Promotions, sets, discounts
Upsell & Cros-sell
Use the warehouse to automatically exclude out-of-stock items

Convenient ordering on computers and phones
We used the latest technology to make your restaurant website look and work better than a mobile app. Your customers will be able to order from a computer, phone or tablet - on any device with internet! They will always end up on the beautiful Amku Amku website and know how to use it. All they have to do is remember your web address or the name of your diner.
The greeting and ordering process is easy to understand and leads your customer by the hand:
Asking for the address to check the delivery range
Presentation of the menu and basic functions: add to cart and use promotions
Order as a guest or create an account with benefits: fast ordering with immediate payment, loyalty points, access to receipts and invoices, promotions...
Amku Amku is
integrated with Google Business

Do you have a profile in Google My Business? Integrate it with Amku Amku!

Download 1-click:
Addresses and Locations
Opening Hours
Reviews & comments
A customer in your restaurant
A customer arrives at your Amku Amku restaurant...
Gives his/her address - the system in the background checks if he/she is within the delivery range
Browse the menu, take advantage of promotions, and add items to the cart
Orders door-to-door delivery or picks up the order at your location, earning extra points
Makes an immediate payment that goes straight to your account
Follows order progress or goes to your social media
If a customer creates an account, they will be able to complete further orders in step 2!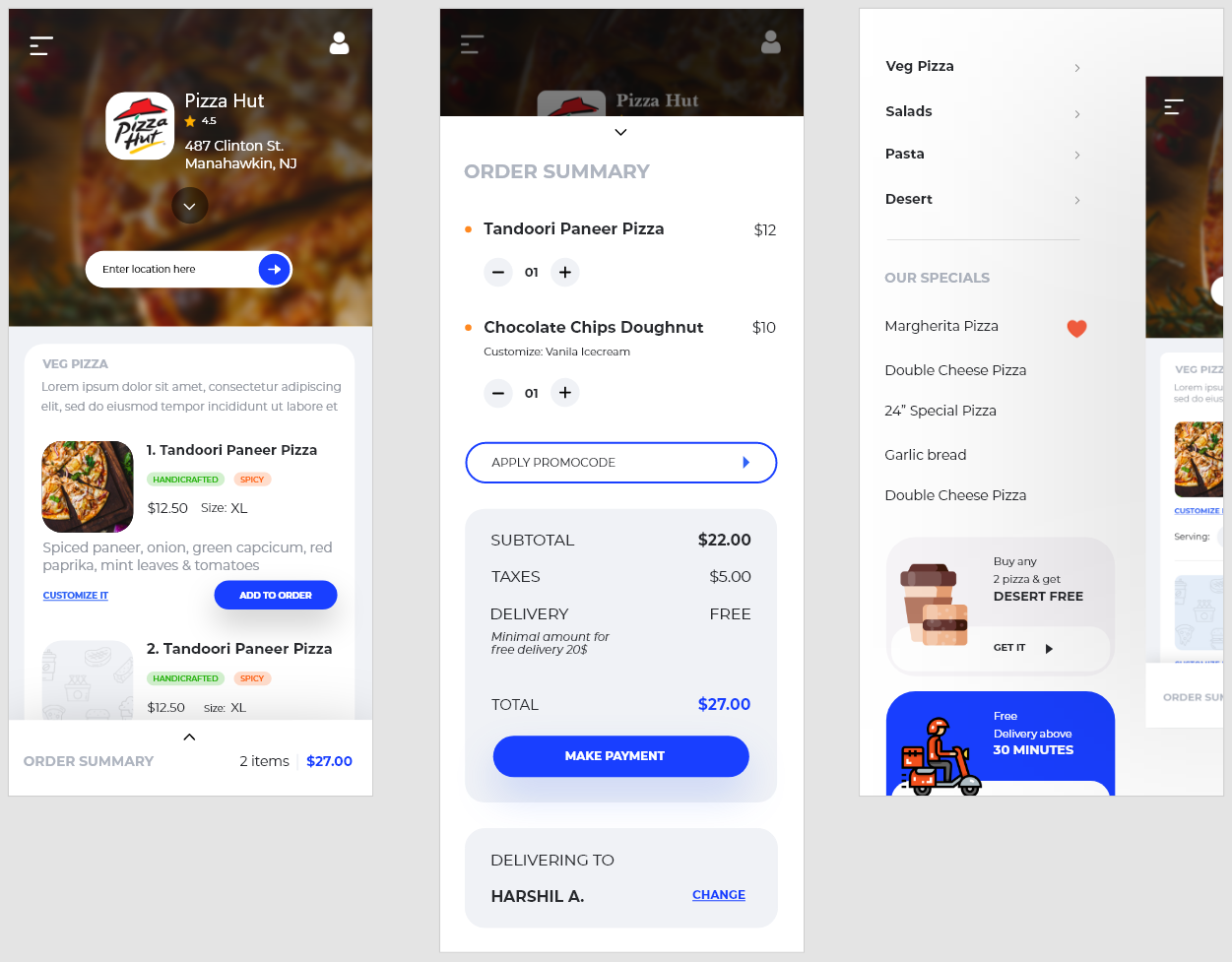 Extra features as standard
Amku Amku has been equipped with extra features that you can start using at any time. You get them all as standard - at no extra charge. Here are some of them:
Automatic promotions and discount codes (Upsell and Cross-sell)
Accept payment in cryptocurrencies
Ability to attach your own domain (web address)
Bulk price and ingredient management
Automatic order invoicing and receipting
Loyalty program for customers - collecting points for activity and orders
Referral program for customers - commission for the referrer and discount for customers coming from referrals
Integration with Facebook and Instagram profiles
Integration with Google Analytics - analyze your store's traffic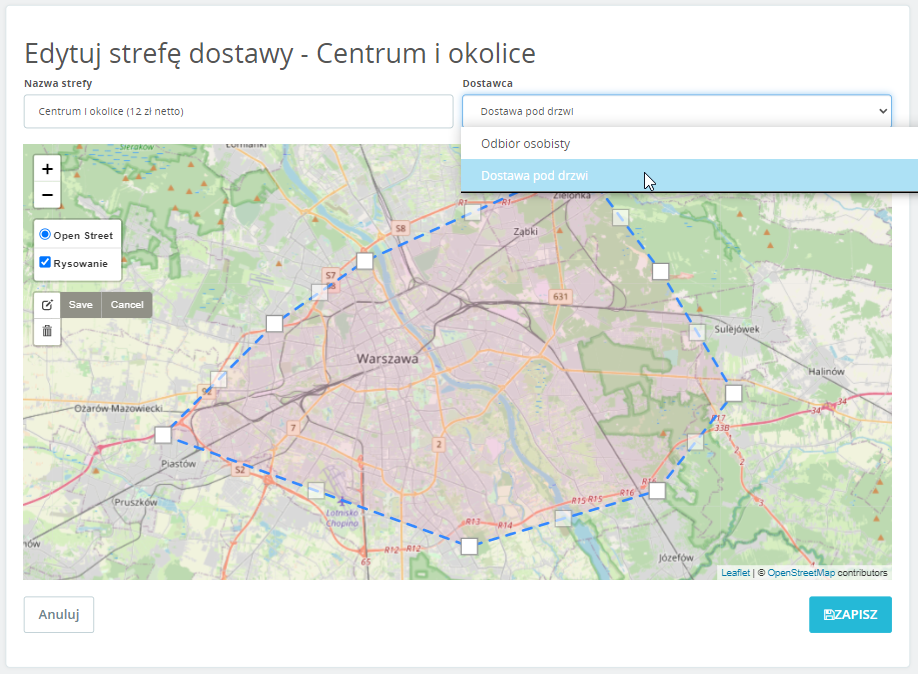 Technical support
We put a lot of work to make Amku Amku accessible for beginners and sufficient for advanced managers of the gastro industry.
If any element of the system needs to be changed or extended - Amku Amku technical team is at your disposal. Our priority is to build a system in accordance with the needs of restaurateurs.
5 steps to get started...
Buy access to Amku Amku on this page and wait for the project launch. We will invite selected restaurateurs to cooperation even before the premiere!
After placing your order you will receive vat invoice and instructions how to use Amku Amku.
How is Amku Amku catering system created?
Amku-Amku is distinguished by technological quality, freedom and liberty, which will always come first.
The Polish agency PrestaShow is responsible for the implementation of the Amku Amku system.
At PrestaShow, we've been creating stores and eCommerce systems for a decade. We have realized visions of many satisfied clients. Then we created over 35 unique modules (plugins), which allowed another thousands of online stores around the world to automate their sales processes and introduce functionalities previously available only to the biggest players in the eCommerce industry.
Today we create complex tools such as Amku Amku, which with their timelessness support the smallest and the best in the gastro industry. You indicate a need, we find a way to fulfill it.
Amku Amku will help you independently and on equal technological and quality level compete with the biggest in the industry.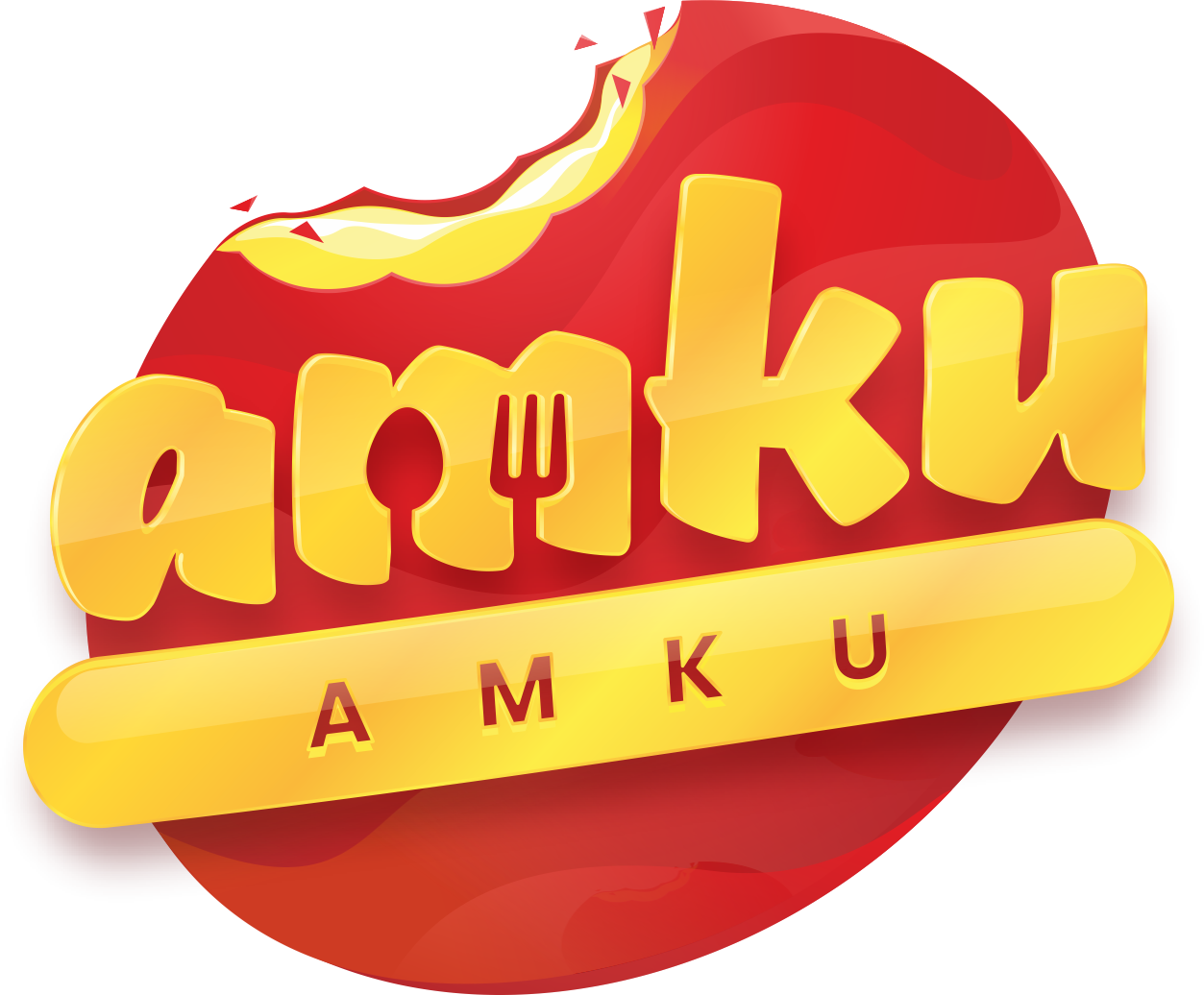 What do we have in store?
No additional or hidden fees!
Once we surpass 1000 gastro outlets, we will launch a cumulative map of restaurants in the area (this will not be the same as our competitors!)
Promotion of zero-waste packaging and materials
Promotion of healthy food, exercise and sport
Fruits and vegetables straight from the farmer - check out the Planter IoTproject
"Digi-Dong" - a handy device integrated with Amku Amku, a printer for orders, invoices and receipts.