Hundreds of parameters have a direct impact on the stability of the quality and speed of your PrestaShop store.
For whom?
If your store is not getting organic traffic and has low search engine rankings.
If you have problems with slow store performance or achieve poor results in performance tests.
If your store has bugs, SEO problems or blocked shopping paths.
What will you gain?
Our audit will provide you with values that will make your store fast, technologically correct and ready to handle a lot of traffic. You will deliver a much better shopping experience to your customers.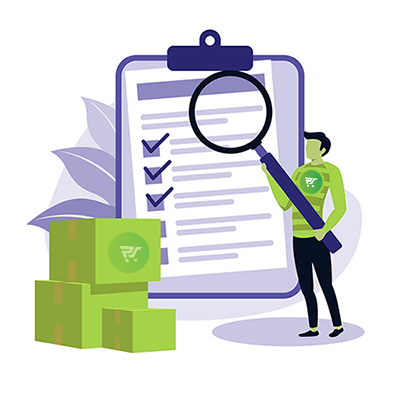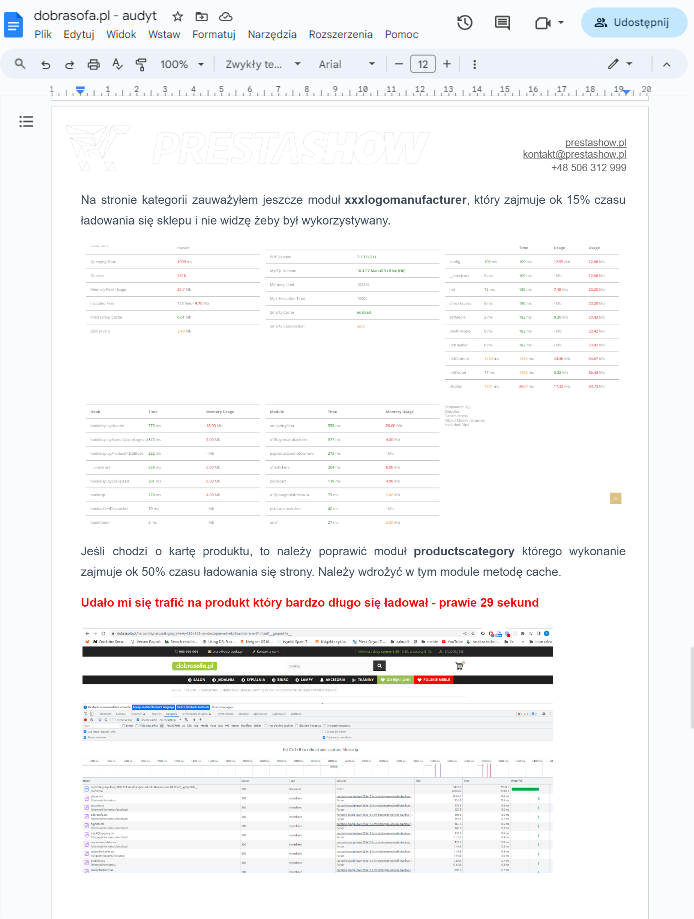 You will receive the audit in a PDF document.
Our PrestaShop Audit service is the result of a decade of experience in the eCommerce industry, perfect knowledge of the PrestaShop engine and know-how related to server administration and SEO.
For each problem found, you will receive specific recommendations to solve the problem.
Technical description of the state of your store and server.
We list the problems, bugs and slowdowns found in the Front and Back Office. We provide specific examples, links and screenshots.
We point out missed opportunities that your store can take advantage of.
Audit turnaround time: up to 10 business days.
Payment: in advance - buy this service.
We test the store on many levels
An experienced programmer will analyze key elements of your store, modules, server and database.
Analysis of the desktop version
Analysis of the mobile version
Analysis of the administration panel
Analysis of customer purchase paths
Server and its components
If you are using a dedicated server running Linux - we will check the status of key system components.
Databases
Analysis of indexes, cleaning from unnecessary entries, correctness of tables check tables and indexing of the database.
Google Search Console
We examine the errors that Google indicates and price their repair.
Profiling
The number and quality of core-database queries and the size of the responses sent.
Cache
Cache of queries to the database from modules, analysis of installed modules, cache of filters and search engine.
Graphics and images
Format and size of images, Lazy Load, linking, loading delay.
JavaScript
Optimization of scripts, integrations with external portals, pixels, tags....
Store code
Store source code quality and errors, quality of overrides and modules.
Unnecessary components
Analysis of unused scripts and template components, e.g. class, fonts.
Update
Update PrestaShop, installed modules, PHP version, database and server components.
Performance tests
Errors generated in performance tests such as Page Speed, Lighthouse GTMetrix affect the SEO quality of your store.
Load tests
We simulate heavy traffic on your store to estimate the capabilities of your store and server.
If you decide to implement the recommendations from the audit with us, we guarantee that your, your customers' and your employees' experience will improve.
Your store will score high in tests such as Page Speed, Lighthouse and GTMetrix.
Each click and browse through your store will take less time. A faster store means higher conversions.
Your store will be ranked higher by Google. Speed and security will be improved.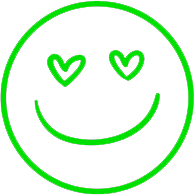 If you decide to implement the complete recommendations from the audit by our team, you will receive a 10% discount. Ask about the implementation discount after you receive the audit!
After purchasing the service, open a ticket at helpdesk.prestashow.pl.
Describe your experience with the operation of your store and server.
Indicate the elements and operations that we should pay special attention to.
If your store uses non-standard solutions, prepare a detailed description of them.
Note that the audit covers the store, installed modules and server. If your store uses extensive modifications and external integrations, the cost of the audit may change. Inform us about the details in your application.