PrestaShop by default has one "Quantity" field for a product and combination. With this module, your products and combinations can use multiple fields for quantity - in different warehouses.
This module will work well when, among other things:
You have multiple stationary stores
You integrate with multiple wholesalers at the same time
Your products are in different locations
You are conducting drop-shipping
Read the module's documentation on how to properly run Advanced Warehouses in PrestaShop: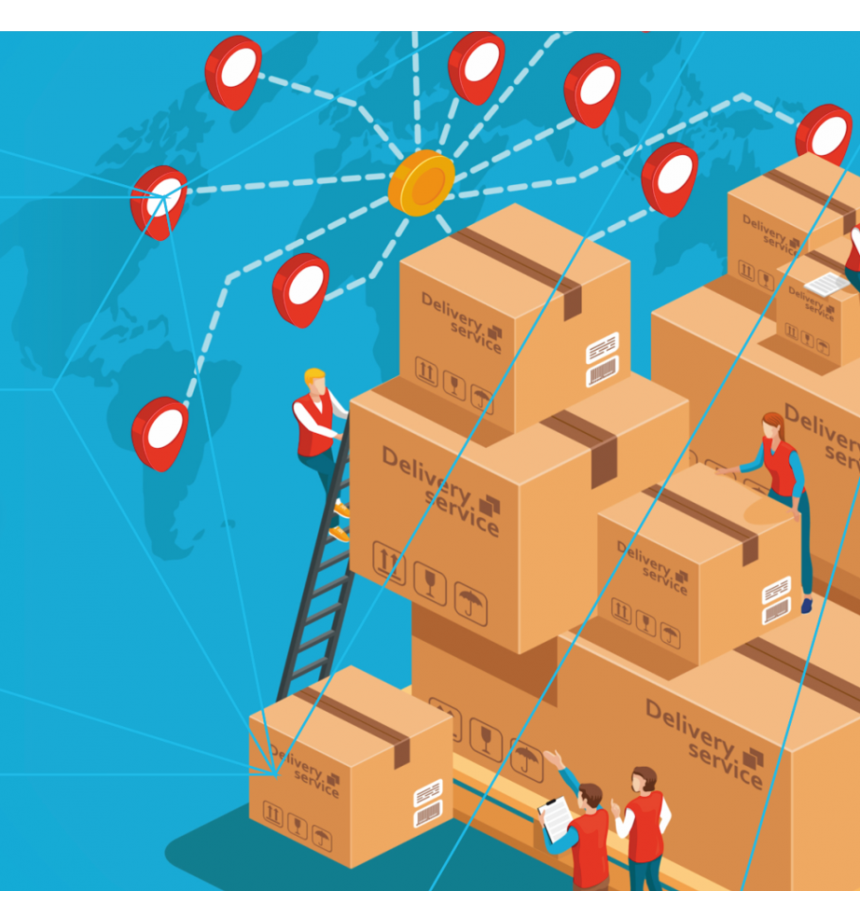 A warehouse is a physical or virtual point where your product is located. It can be your store's warehouse or your wholesaler's warehouse.
When you enable Advanced Warehouse for a product, its "Quantity" field = the sum of quantities from all warehouses where the product is located.
You can display the warehouse information on the store front.
Inform customers where and in what quantity the product is located.
Enable personal pickup at the warehouse.
Manually assign the product to warehouses
The module adds a "Warehouses" section in the product edition.
In the section you will assign the product and combinations to warehouses and change the stocks in warehouses.
Bulk addition of products to warehouses
You can use mass inclusion of warehouses for multiple products
Completing a warehouse using an external integration automatically turns on that warehouse for a given product and combination
By specifying the quantity of products and combinations, you can mark the Quantity for sale, which will be available and visible to customers in your store. The remaining quantity will remain unavailable - reserved for other purposes.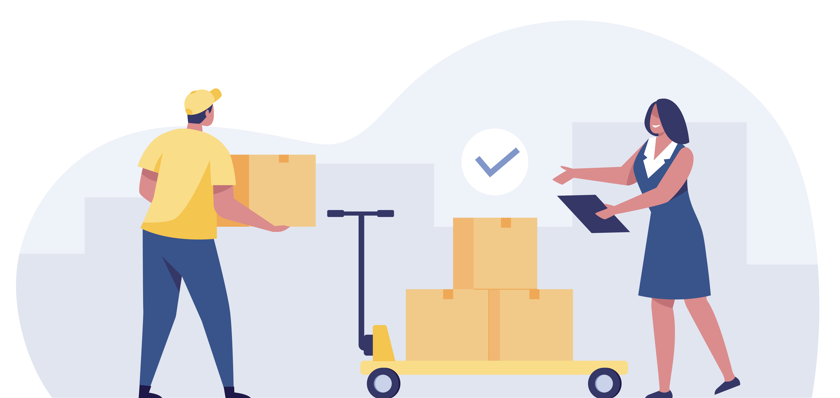 Manual stock movements
In product editing
Creating bulk warehouse movements, such as delivery
Moving products between warehouses
Automatic warehouse movements
Ordering takes a product out of stock.
Importing and updating stock from XML, CSV and API in warehouses using the PShowImporter module
Using external software, such as ERP
History of warehouse movements
Every edit of product quantity: manual, delivery, integration and movement is recorded in the Warehouse Movement History.
You can integrate each warehouse with another wholesaler. This will be useful if the assortment overlaps in the offers of multiple wholesalers. Stock updates from wholesalers will be visible in the admin panel, in stock movements and on the product page.
You can carry out the integration between suppliers and wholesalers and your PrestaShop store using the PrestaShop Importer module . This module can automatically update the inventory of products from multiple suppliers - in multiple warehouses in your store.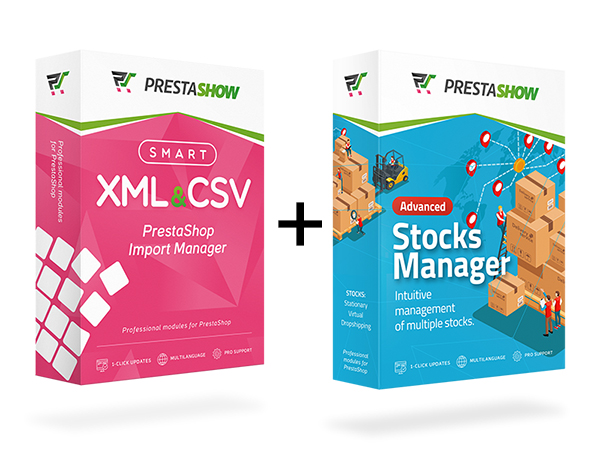 Messages to customers about inventory updates
If you update inventory with PShowImporter, you can enable the display of the date and time of the last inventory update on the product page in the module setting.
Integration of Advanced Stocks with ERP software.
Systems that connect to PrestaShop use the default Quantity field, such as BaseLinker, Amazon and ERP systems. You can modify the configuration of an external integration so that it updates or retrieves "Quantity" from a specific warehouse.
Integration documentation for external systems
Forward this post to the vendor of your system that you want to integrate with our module: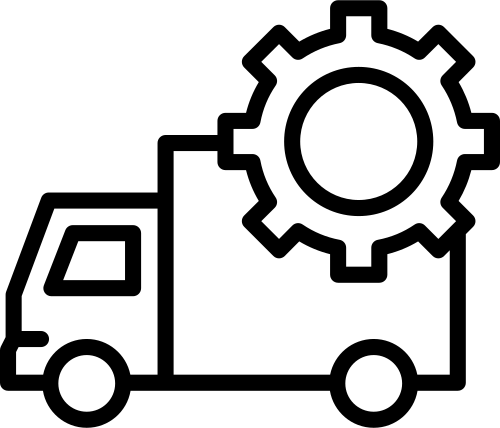 You can associate warehouses with delivery methods available in your store. Assign delivery methods to warehouses - choose from the modules installed in your store.
For each warehouse you can specify:
Delivery costs and delivery method
Message about availability and unavailability of goods
Delivery lead time
Possibility of personal pick-up at the warehouse
The module can display product quantities and for combinations in all warehouses, along with a message, delivery time information and the possibility of personal pick-up.
When you select a combination, the quantities reload dynamically.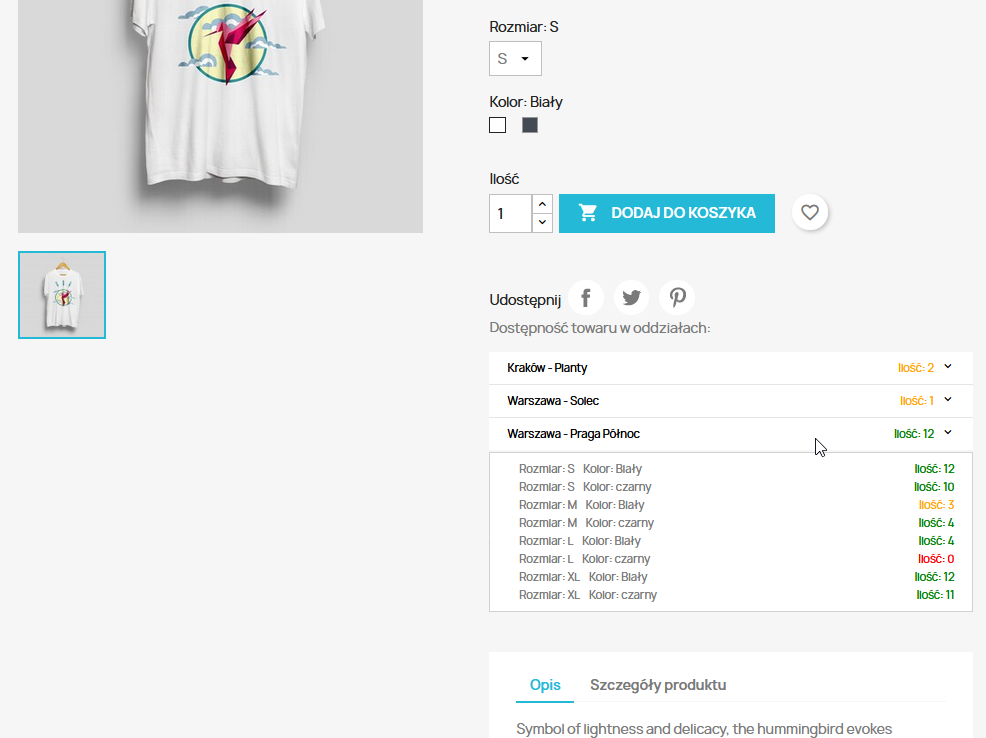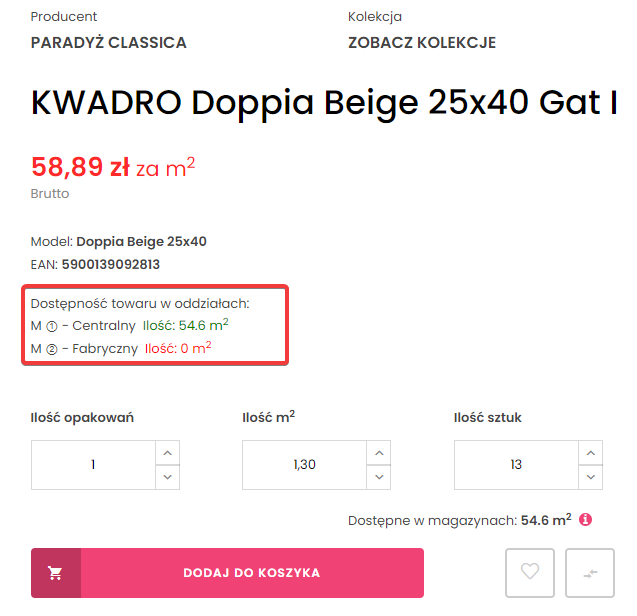 In the module you will find 4 looks of the list of warehouses on the product page. You can freely edit each look in .css and .tpl files.
The module notes the entry and exit dates of the product from the warehouse. If the same product is in multiple warehouses, you can choose the warehouse management method:
FIFO - first in, first out
LIFO - last in, first out
AVCO - weighted average
Products in an order can come from different warehouses. If possible, the module will put products from the same warehouse in the order in priority. If there are products in the customer's shopping cart from more than 1 warehouse, you can enable one of the scenarios:
Multiple warehouses, one shipment
During the order, the customer will indicate one shipping method for the entire order, even if the order contains products from multiple warehouses.
Multiple warehouses, multiple shipments
During the order process, the module will display the delivery choices for each warehouse involved in the order.
Under the name of the warehouse, the products that will be shipped from that warehouse are listed.
The customer must select the delivery method for each warehouse to proceed further.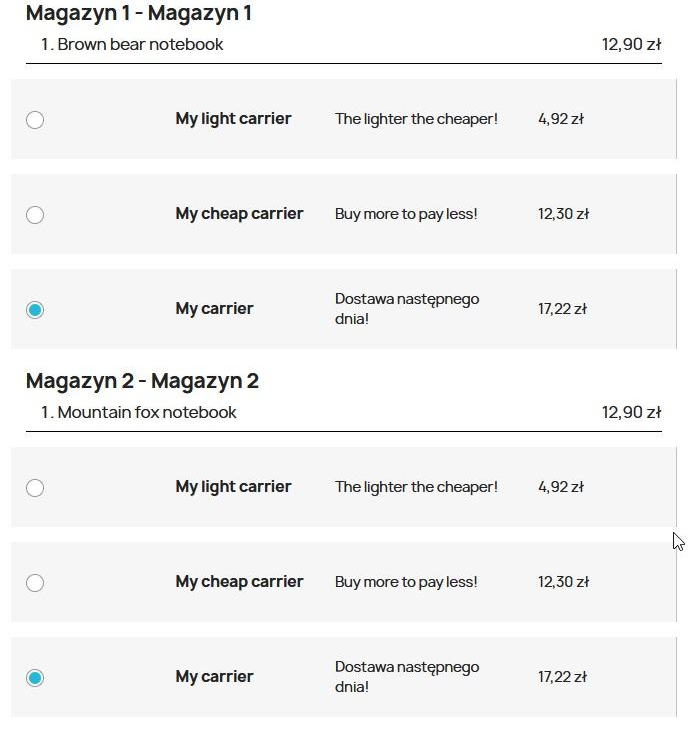 The customer's shopping cart with products from multiple warehouses will create orders for each warehouse. For the customer, splitting the order by warehouse is a process that is not noticeable during the shopping and handling of the order. Access to the split order is visible only in the order history in My Customer Account.
Orders created from a single shopping cart have a common code (order reference), which is completed with a unique order ID, e.g. DHUQL#1, DHUQL#2, etc.
In Multistore option, warehouses are common and visible to all stores. A product with an assigned warehouse is visible with these warehouses in all Multistore stores. Multistore support through this module is an additional fee.
If you have a need that the module does not fulfill, then write to us to get a quote for module expansion. Here are our suggestions - ask if you are interested:
Interactive map of warehouses and personal pickups on the product page and in the order process
Integration with ERP systems with open database, e.g. SubiektGT, Enova
Purchase and sales price history of goods
Inventory automation using scanners or data collectors
Automation of goods receipt, orders and shipments
Integration with data collectors
Integration with scanners, scales, displays, label printers, etc.
Support and updates
You can use the module indefinitely - the license is lifetime.
You get 3-month access to Premium Support for the module.
Premium Support gives you access to HelpDesk and to module updates.
You can enable access to Premium Support at any time by purchasing any of the available packages
Module updates
90 days
Modules will inform you of an available update directly in your store. Take a look at the changelog. You will update a module conveniently with 1-click.
HelpDesk support
90 days
HelpDesk is a panel where we provide help for modules. On HelpDesk you can order modifications and custom programming work.
Knowledge Base - FAQ
Free
The knowledge base is free and available to everyone. You will find module documentation and answers to frequently asked questions.
License
Below is a summary of the most important information:
License - main domain and secondary domains
You can assign module licenses to 1 store = 1 domain.
You can add a secondary domain for a test store.
You can use the module without time limits.
Changing the main domain is possible - for this purpose, please contact us.
Multistore domains
Support of unlimited number of domains in PrestaShop Multistore requires purchase of multistore support for the module.
Modifying the module code
The module code related to store integration and appearance (.tpl, .css, .js) has open source code and you can modify it freely. The module source code (.php) is encrypted with ionCube.
Demo
You can test some modules in our demo store. You can find the link to the demo store in the top section of the page
You can test some modules for free by downloading 14-day Trial .
If you have any problems with the operation of the Demo or Trial version, please contact us