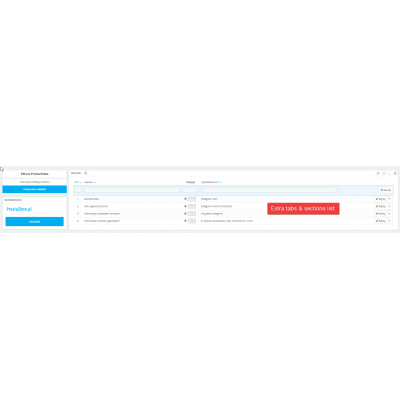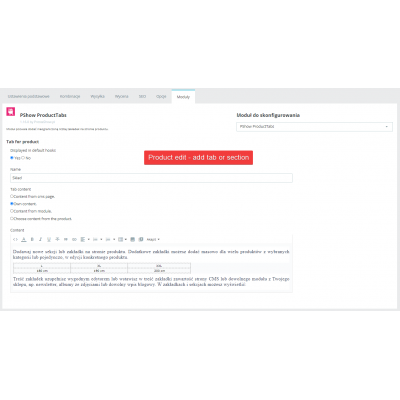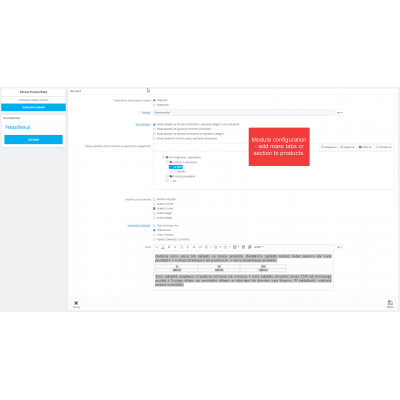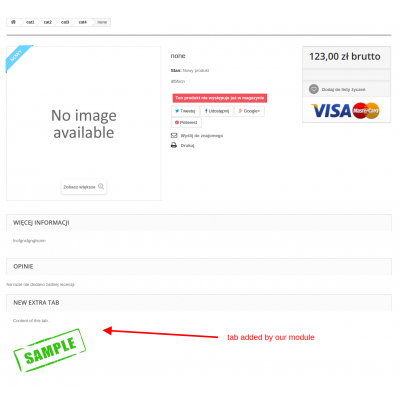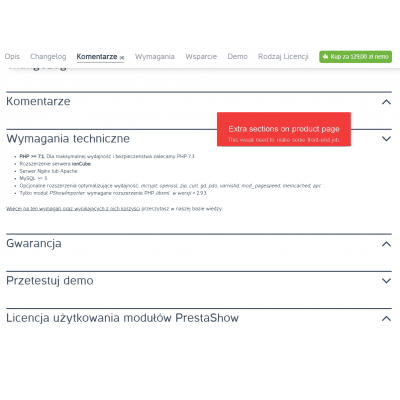 Additional tabs and sections on the product page
Translations: EN, PL
Reference: PShowProductTabs
Add unlimited sections and tabs to your product page
Bulk add by category, manufacturer or select products manually (autocomplete)
Bulk fill in description of similar products, insert content, images, tables, FAQs and more
Use the module to manage sizing, composition, features, instructions, delivery and returns information...
Additional tabs and sections on the product page
Additional tabs or sections on the product page you can add in bulk for many products, categories and manufacturers or individually, in the edition of a specific product.
Instead of sections and tabs you can also place them "at the end of the product description".
You can complete the content of bookmarks with the WYSWIG editor. In a bookmark you can also insert the content of an existing CMS page or any module from your store, e.g. a newsletter, photo album or any blog post.
How does it work?
Add an additional bookmark in the product edition or in the module settings.
Choose what content should be displayed in the bookmark or create your own content.
From now on the selected products' pages will display additional content and information.
Have you made any changes? You don't have to edit all products. Just edit the content of the bookmark you created, and the changes will be visible in all products.
In tabs and sections you can display:
Custom content, images, videos and tables created with the editor
CMS page content (select an existing CMS page you want to show in the bookmark)
Content of any module installed in your store, e.g. blog entry, album, instagram, newsletter, etc.
List of product features
Long product description
You can add bookmarks:
In bulk by category
Bulk by manufacturer
Select multiple products at once (autocomplete)
In the product edition
Sections and tabs
PrestaShop 1.6 standard template has sections (one below the other)
PrestaShop 1.7 standard template has tabs (switching between tabs)
Our module adapts to the PrestaShop standard. There is no obstacle to change the sections into bookmarks and vice versa. This change may require editing the template. If necessary, please use the HelpDesk.
If you create multiple tabs/sections for a single product, you will be able to determine their order using the "Drag & Drop" method.
Additional module features
Endless tabs. Each tab can be freely configured and assigned in bulk to products.
Translations. Names and contents can be translated in languages enabled in your store.
Additional description at the end of the main product description. Additional content, graphics or tables can be mass attached at the end of long product description. Attaching additional content to the end of product description in some templates is a better looking alternative.
A tab or section can display the original product description or list of features. You can use the module to reorganize the position on the page of the long description and the list of product features. If your template misrepresents the product description or does not show the product features - our module will help you arrange the description and features nicely and clearly.
What to use additional tabs and sections for?
With the module you can mass add any content, table, list of parameters, features, sizes, FAQs, warranty or returns information. Mass added content is easier to manage and edit.
You can use common tabs for example for:
Size tables
Composition tables
Warranty, delivery, license or return information
Additional information and descriptions
Frequently asked questions
Additional galleries, photos and blog entries
If the selected manufacturer changes e.g. size or warranty period - with a few clicks you will be able to update the description of many products.
Technical requirements
PHP version 7.1 minimum
ionCube server extension
Nginx or Apache server
MySQL >= 5
Optional performance optimization extensions: mcrypt, openssl, zip, curl, gd, pdo, varnishd, mod_pagespeed, memcached, apc
You can read more about the requirements and their benefits in our knowledge base.
PShowImporter module only: PHP libxml extension > 2 .9.3 required.
PShowFacebookIntegrator module only: PHP 7.2 or higher forFB API support
Support & Warranty
Knowledge Base (FAQ)
The knowledge base is free and open to everyone. If you want to know the most frequently asked questions, please go to the corresponding module section in our Knowledge Base.
Benefits of having active technical support
Along with the module, you receive a guarantee in the form of 3 months technical support and access to module updates. After expiration you will still be able to use the purchased modules, but access to support will be limited. You can renew the technical support and access to updates at any time by purchasing any of the available packages. The support will always cover all the modules on your account.
HelpDesk support
Convenient panel with email notifications

Help with installation, configuration and guarantee of module's work in your store.




Ask questions and report problems that will always be solved (57% of requests are processed < 24h)

Order paid extension and adaptation of the modules to your needs

Order any programming and optimization work for your store and server.
Module updates
The modules will inform you about available updates, new functions and security features.

Upgrading a module will be done with 1 click.

The module will backup its files before the update. In case of problems, you can easily restore the previous version and use HelpDesk assistance.
PrestaShow Module Use License
Please visit this page for detailed license information. Below you will find the most important information regarding our modules and licenses:
You can use a module for unlimited time per store: 1 module = 1 license = 1 domain.
You can also use the module in the test store: dev.domena.pl, test.domena.pl, beta.domena.pl.
Changing the domain for a license is possible. For this purpose, please contact us at

[email protected]

.
You can modify the source code of the modules in tpl and css files. Modification of module's engine (core) will result in loss of warranty.
Demo
You can test the module without any limitations in the demo store (you will find the link in the upper section)
Selected modules have demo content installer, so called demo content
For other modules, remember to configure them
You can change the demo store language in the top menu of the demo store
Demo will be automatically removed after 48 hours.
In case of any problems with demo store operation - please contact us.