3-months
PRO Support
We guarantee that our module will work in your store
Instant Access
You will immediately receive access to the module files
0% VAT
EU Invoice
You will receive PDF invoice right after payment
Official SMSAPI integration for PrestaShop
Official SMSAPI (LINK Mobility) module for PrestaShop provides a range of features to automate communication and customer relationships with your online store. The module is ideal for smaller/medium entrepreneurs planning to scale their businesses and experienced companies looking for innovative solutions to automate their marketing and eCommerce processes.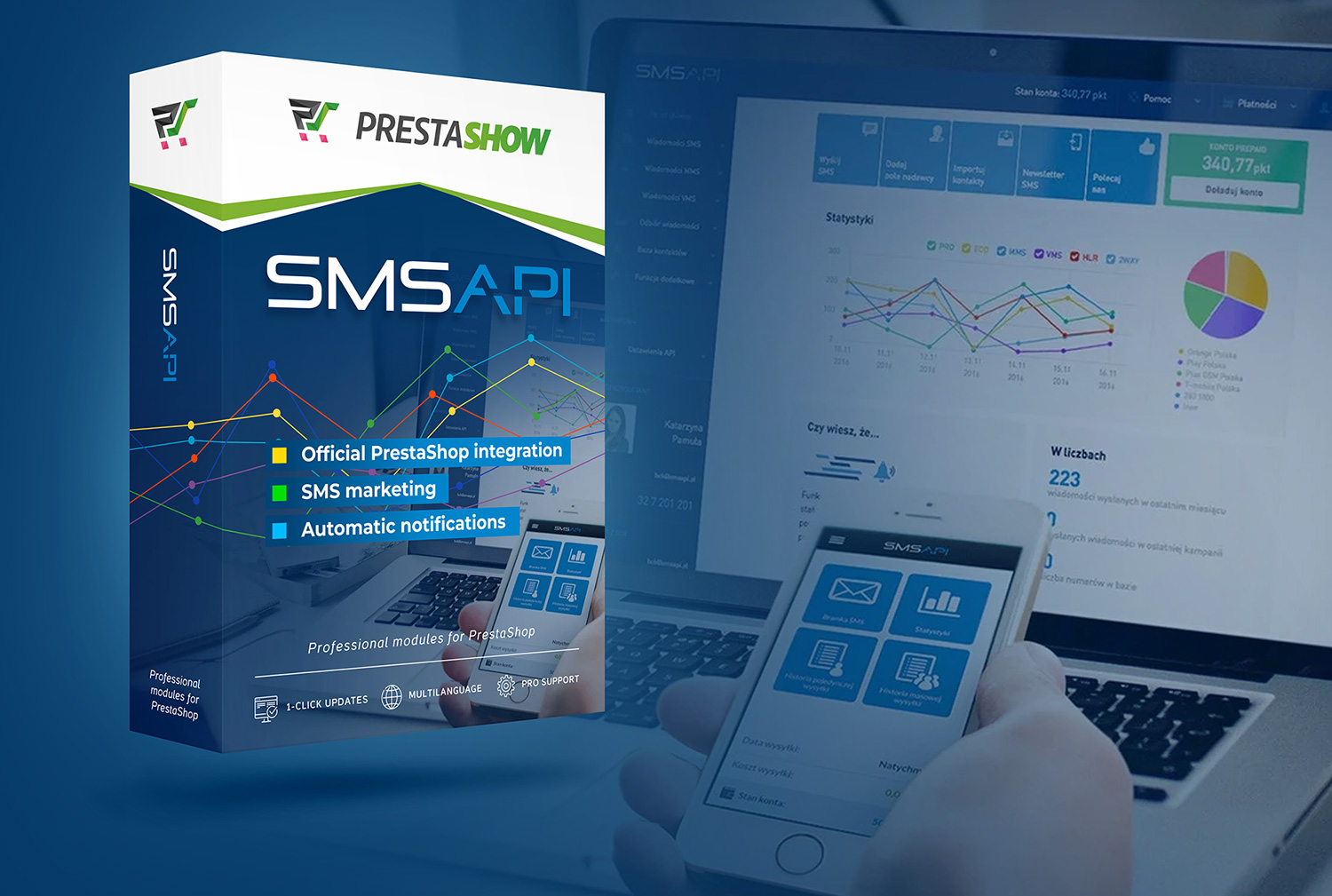 SMS notifications for your customers
Automatic SMS notifications about order status changes

Automatic SMS notifications on product availability

Date celebrations - birthdays and anniversaries

Abandoned carts recovery - also for customers who have not registered in your online store

Planning and execution of marketing campaigns, seasonal promotions, special offers using SMS messages

Activating customers who have not placed orders in your online store for some time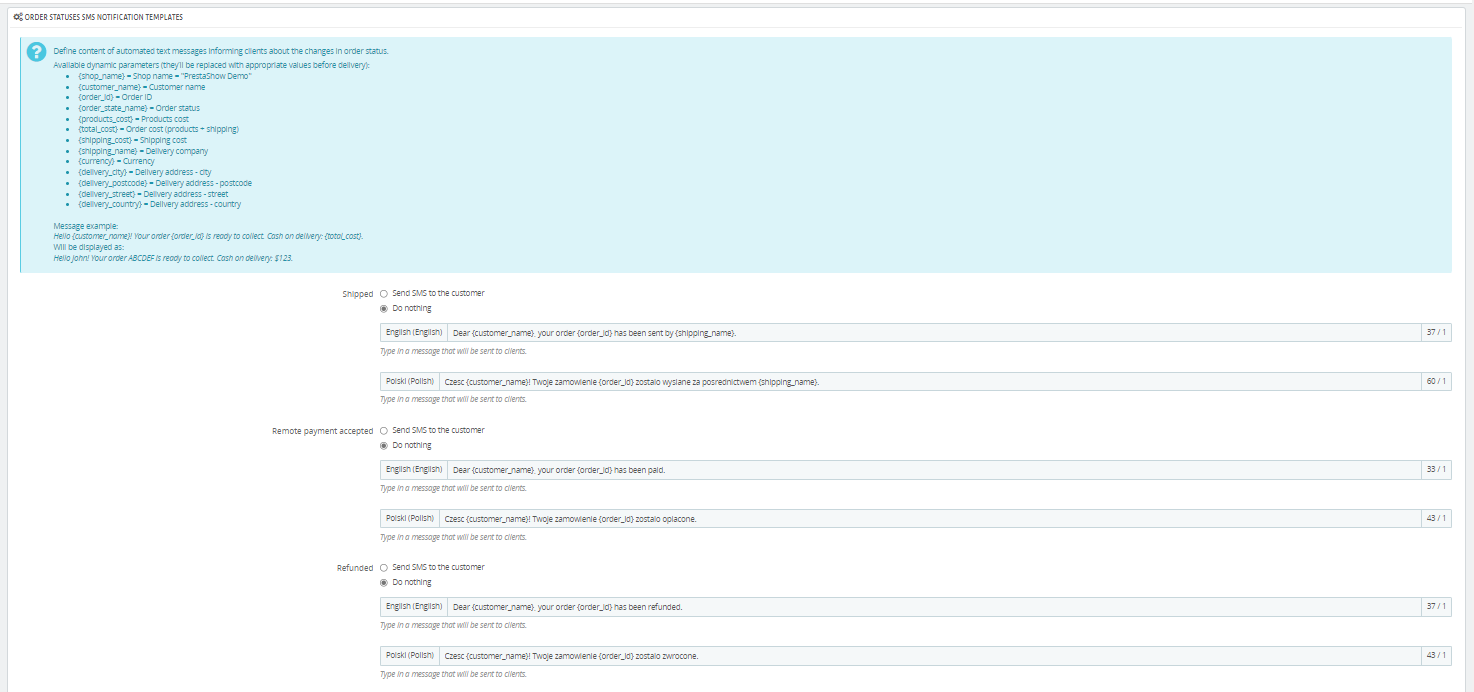 SMS notifications for store administrators
Receive notifications about new orders placed in your online store, e.g. when you are offline.
Automated SMS marketing
SMS notifications and marketing will allow you to optimize costs!
SMS notifications and marketing will help you optimize costs thanks to the automation of these processes. Thanks to an appropriate, one-time configuration of available functionalities, you will not waste time on implementing strategies related to communication with the customer - the module will do them for you.
Investing in the module gives you a virtual employee who will carry out all the tasks efficiently and error-free.
The functionalities implemented in the module have been developed on the basis of the report prepared by Shoper and SMSAPI: "Communication in Ecommerce 2020" and reflect the expectations of online store owners and their customers.
Sample findings from the report:
49.7% of consumers agree that automatic notification of order status demonstrates high-quality customer service

34.8 % of consumers would like to receive an SMS informing them about the order delivery

66.8% of consumers agree that they use the notification function when the product is available again

10.1% would be happy to use such a feature if it was available
Personalization
SMS sender name. SMS messages sent to your customers will have an individual sender field instead of a phone number, e.g. the name of your online store.
SMS content. The module allows you to fully personalize the content of SMS messages sent using intelligent parameters, e.g. date of order, customer's name, order ID, amount, currency and more.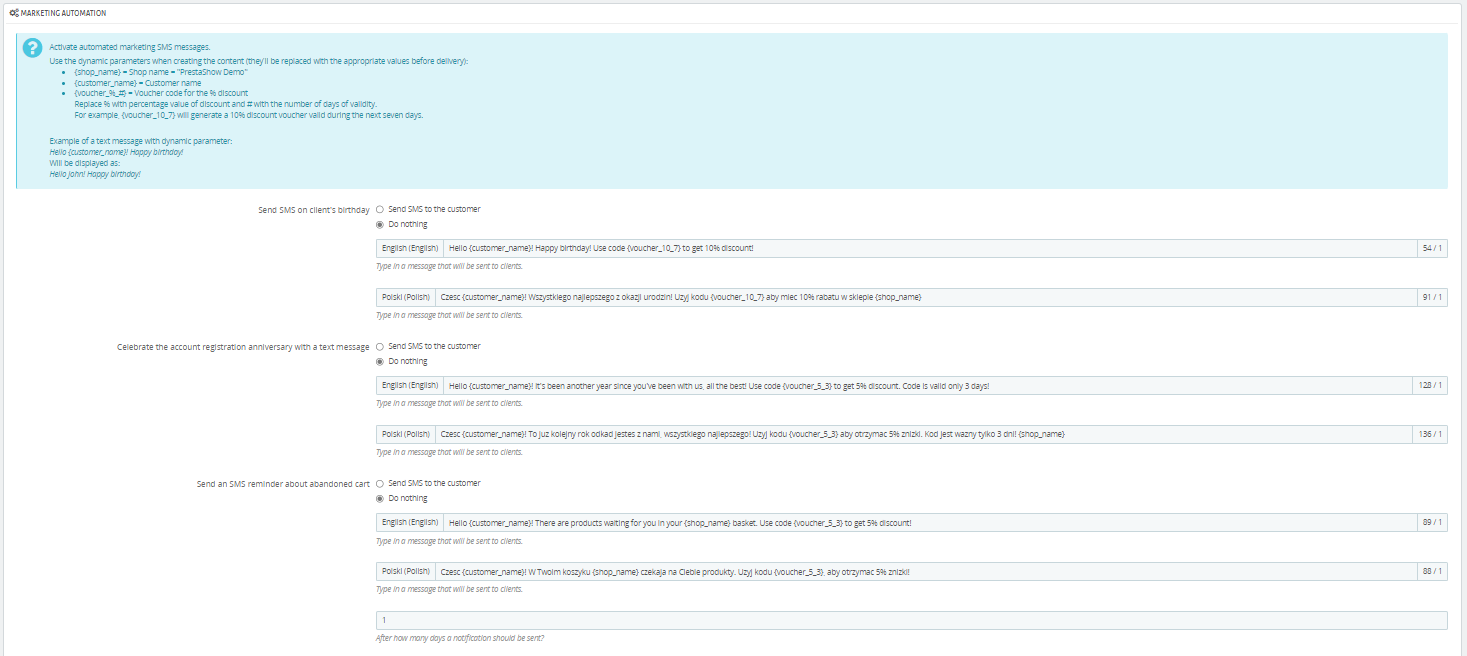 Security
The module complies with security and personal data protection requirements in line with GDPR standards. It adds consent as a checkbox.
Create an account and start using
A detailed documentation and a user-friendly interface of the SMSAPI panel and module will help you create an account in SMSAPI, install and configure the module in your PrestaShop store.
Create an account in SMSAPI

Install the module in your PrestaShop store

Click "Login to SMSAPI" in the module

Done! Configure your SMS and enjoy automatic marketing with short text messages.
Instructions on how to install and configure the module can be found in the HelpDesk Knowledge Base.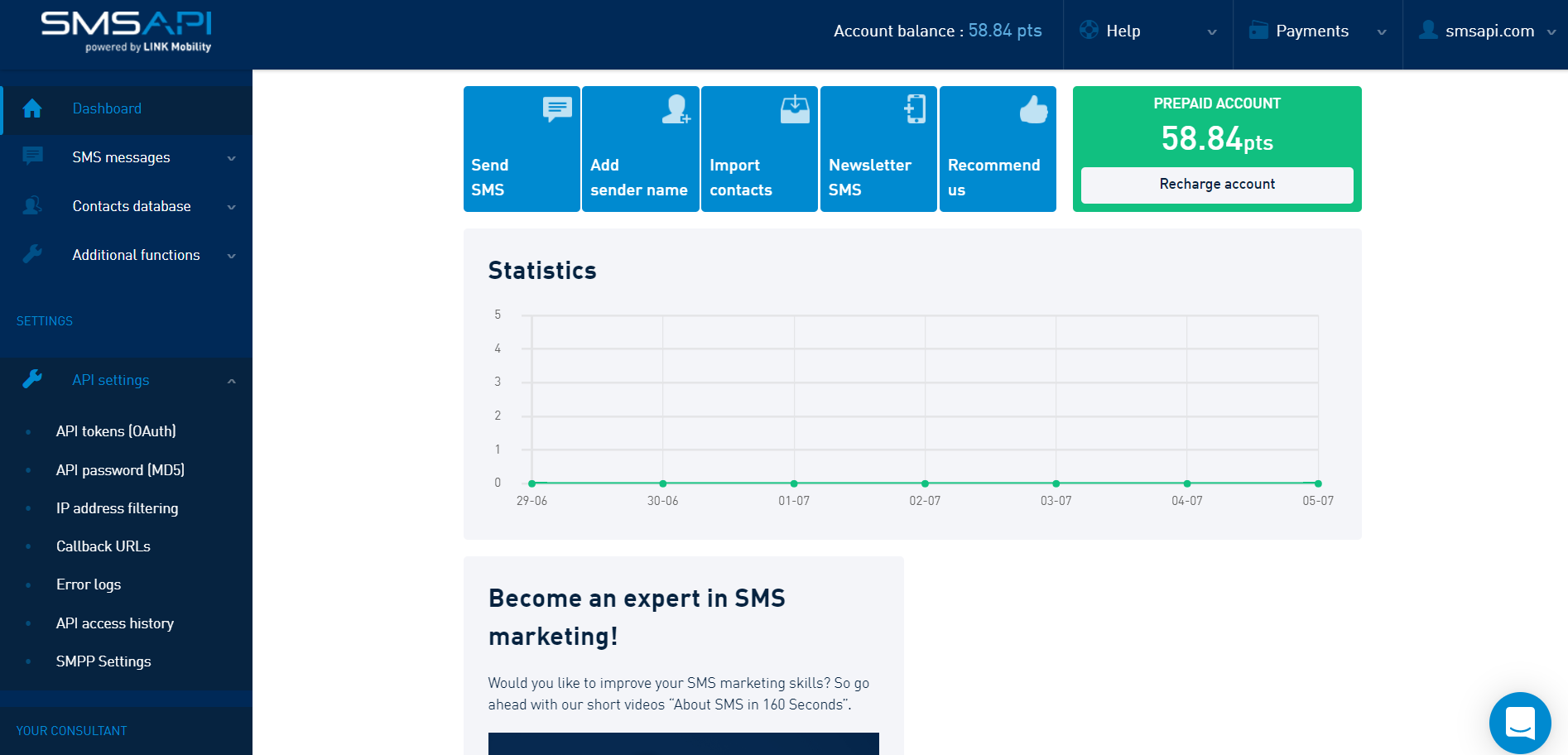 Technical requirements
Minimum requirements for all modules
PHP 7.1 or higher
ionCube server extension
Nginx or Apache server
MySQL >= 5 or MariaDB
PrestaShop Importer only: PHP libxml version > 2.9.3
PrestaShop Facebook Integrator only: PHP 7.2 or higher
Optional performance optimization extensions: mcrypt, openssl, zip, curl, gd, pdo, varnishd, mod_pagespeed, memcached, apc
You can read more about the requirements in the knowledge base.
Support and warranty
3-Months Free Technical Support
Along with the module, you get 3 months of technical support and access to updates. When the time expires you can continue to use the module. You can renew access to support and to the latest module versions at any time by purchasing any of the available packages. The package includes the entire domain and all modules assigned to the domain.
Knowledge Base - FAQ
Theknowledge base is free and open to all. In it you will find documentation of the modules and answers to frequently asked questions.
HelpDesk panel
HelpDesk is a convenient panel for communication, on which we provide help during the use of modules. On HelpDesk you will order any programming work and optimization of the store and server.
Module updates
Modules will inform you in your store about new updates. You will perform the update directly in your store with 1-click.
PrestaShow modules use license
PrestaShow modules use license
You can find the full content of the license on this page. We have described the operation of the license handling system on this page. Below is a summary of the most important information:
Domain and additional domains
You can assign the module after purchase to 1 store = 1 domain. You can use the module in the domain without time limits. You can add a test/developer store domain to each domain for free. Support for domains in PrestaShop Multistore requires the purchase of
multistore support
for the module.
Changing the domain
Changing the domain is possible. For this purpose, please contact us.
Code modification
The module code related to the integration with the store and the appearance (.tpl, .css) is open source and you can modify it freely. The module source is encrypted with ionCube.
Demo
Test in the demo store

You will find the link to the demo store of this module in the top section of the page
You can change the language of the demo store and the language of the module (EN, PL, DE, ES, IT, FR) using the top menu of the demo store
The demo will be automatically deleted after 48 hours
In case of any problems with demo store operation - please contact us