Still on receipt? Switch to invoice - easy and painless!
Printing receipts and packing them into packages will soon be a memory of the past. Today you can do everything faster, more efficiently and more conveniently, without subscriptions and external services. No more manually rewriting statements! If you haven't yet switched to full electronic invoicing and thanked receipts, it's high time to do it.
In cooperation with online stores and accounting offices, we have built a module for invoicing directly in the PrestaShop store. Our module is a complete tool that will help you seamlessly transition to the new system. Your PrestaShop store can electronically issue all types of invoices, including adjustments and returns, and transmit them to your accounting software.
Invoice vs. receipt
The first question that comes to mind is: why? After all, receipts work, and if something works, why change it? There is a bit of work involved, but it never gets me wrong (said everyone)!
In a giant nutshell - for your convenience. By controlling sales in receipts, you waste time that could be spent on business development, a new strategy or automating more processes. Why rummage through paperwork when the accounting process can be carried out by your online store? And the benefits don't end there. If you give up receipts:

You don't have to maintain (or buy) a fiscal printer
You don't have to print and package receipts: you can receipt orders from private individuals with electronic e-paragraphs, i.e. named invoices in the name of the purchaser, without the need for a tax number.
You don't need to print monthly statements that your accountant manually transcribes into your accounting program. The module will generate a statement and invoice package in PDF format.
Legal basis
The Decree of the Minister of Finance dated December 22, 2021 on exemptions from the obligation to keep records of sales using cash registers can be found here. It reads, among other things: "It is exempted from the obligation to keep records in a given fiscal year, but no longer than until December 31, 2023 (...)."
According to the regulations, as of May 1, 2021, the seller is exempt from the obligation to issue a printed fiscal receipt each time. It may be replaced by an electronic fiscal receipt, which will be sent to the customer's email address or directly to his cell phone (source). Bingo!
Consult your accountant or write to your tax office to request an individual interpretation. A short letter outlining your eCommerce business will give you 100% clarity.

List of invoices issued by you manually and for orders in the store. Filter, view, download, correct from one place.
Still unconvinced? A departure from traditionalism has its pluses:
Automatic invoicing for orders, including generation of adjustments, returns and duplicates.
No accounting and bookkeeping differences after switching from receipts to B2C invoicing
No additional tax costs when you switch to invoicing
Invoices will be the only billing document, so you will keep your files in order:)
You will generate a monthly statement and download all PDF invoices with one click
Do you still have doubts? Or maybe you are troubled by some legal issues? As it happens, we have prepared a small guide that answers the most important questions (also from the regulatory side!) related to such a change. You can read it here.
Everything in its place
Let's get to the specifics. One of the many (and there are indeed quite a few!) advantages ofautomating the entire process is the ability to generate and issue documents with just a few clicks. One: issuing such an invoice takes a few seconds and can be done fully automatically, and two: you have everything arranged, so there is no option that something will get lost. Have you ever gone through the whole office looking for a single piece of paper? Well, that's right :)
With the help of PrestaShop Invoices module you will generate sales documents directly in youronline store. You will also invoice sales from other channels: phone, email, Allegro, Amazon or stationary sales. Name invoices, VAT, Proformas, duplicates and corrections. No paperwork, no mess - that's why you should use automatic electronic invoicing!

Support all types of invoices directly in your store. You can configure each invoice individually, such as giving it its own numbering.
We have put at your disposal a number of other useful features. PrestaShop module supports all currencies available in your store. Generated documents have a summary with conversion according to the current exchange rate, for example, EUR -> PLN. Do you sell products with different VAT rates? You will find a summaryof all tax rates on the invoice as well.
Documents issued with PrestaShop Invoices module are in accordance with current legal regulations and accounting standards.
Importantly, the PrestaShop module allows you to export a summary of sales and invoices. You can integratesuch a file with the most popular accounting software! Get advice from your accounting office: whether their software supports the CSV format. No, and there is a remedy for that! Our module works with Converters (e.g. KTKonwerter) that support conversion of CSV format to any accounting program on the Polish market. You can settle the whole month withone click:)
.
By conducting invoicing directly in the store, you can export a summary of invoices by currency and date range to Excel (CSV) or PDF format and pass the files to accounting.
To the comfortable world belongs
Each of us has its own accretions, habits and work rhythm. That's why the system we created is flexible and intuitive. You can customize the entire invoicing process to your individual requirements, without losing anything to automation.
The .tpl file, on the basis of which PDF files are generated, is responsible for the appearance of the invoice. You can edit it freely! You can easily upload a logo in the module, set invoice issuer data and enable additional fields specific to different businesses. You can also configure your own invoice numbering, so that you can continue your existing naming without any obstacles.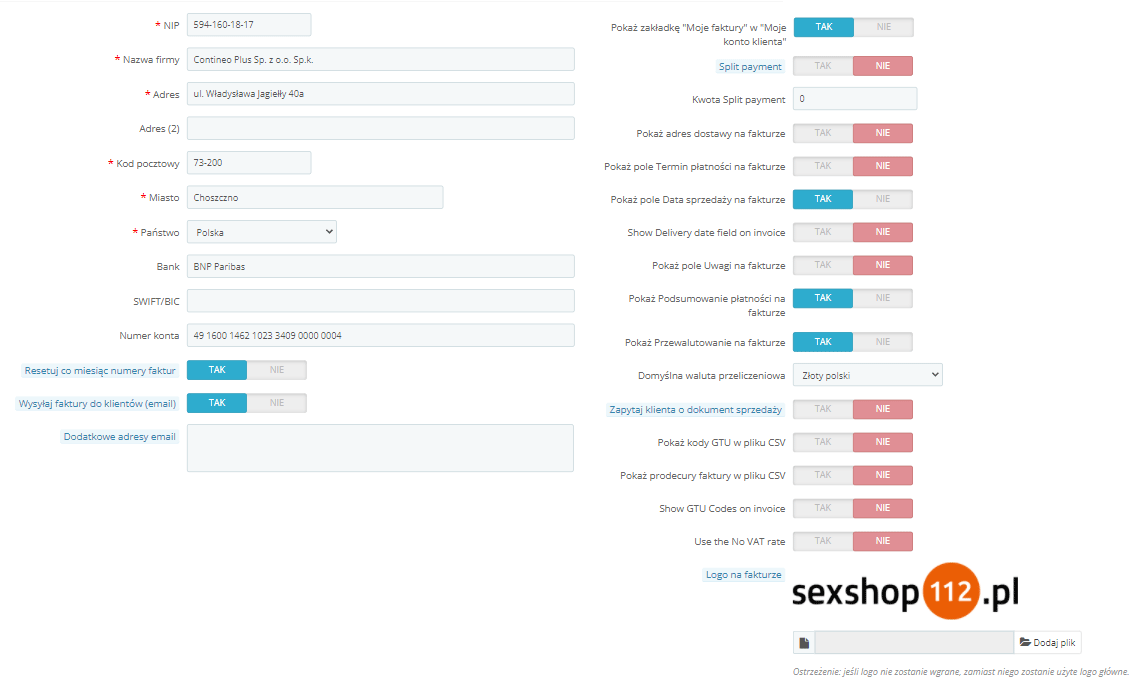 Every industry and business has individual requirements. Customize the content and appearance of your invoices to suit your needs.
We put at your disposal a number of enhancements that will allow full automation in your industry. With us you will handle every case: label products with GTU codes, define VAT rate for shipping/delivery use Split Payment, Reverse Charge, VAT OSS or mark invoices with required procedures.
Switch to invoice!
The conclusion is simple - there is absolutely no reason to keep messing around with paper receipts or using subscription services that you have to integrate and submit sales data to them. Not when you have access to such tools! Issuing invoices directly in PrestaShop, these days, is easy, fast and convenient. And you can do it fully on your own. Your accountant will be happy - we guarantee it.