It has happened! Your business is growing and you are thinking about overseas expansion. However, international sales are quite a challenge for any entrepreneur and his store. New foreign-language customers mean configuring new languages, assigning them to different domains, handling different currencies, redirects... The list of tasks is really long, and you will get a good migraine from thinking what else you need to prepare. Relax! We have prepared several solutions that will make your international sales run smoothly and efficiently. You will be able to focus on further scaling;)

First of all - configuration!
Running a store is quite a challenge! You need to have eyes around your head and keep an eye on literally everything, at any time of day or night. And we're talking about just one market! Operating internationally, you could spend all day checking that everything works... and you'd probably run out of time anyway ;)
The default solution is PrestaShop Multistore. Multistore would work well if we wanted to run many different stores from one admin panel. We, however, want to use the store on which we already run sales.
Let's get started: enable the new currencies and languages you'll need in your store for the markets you want to sell in. If you don't know how to go about it, we refer you to the official, well-described Polish PrestaShop documentation.
Local and global domains will help you position yourself
PrestaShop Multistore - the minimum that PrestaShop offers as standard
In PrestaShop configuration you will find PrestaShop Multistore feature. Multistore is multiple online stores managed in one common admin panel. Each store in Multistore is configured independently: from domain and template, to product set, to module settings. If you install a new module in PrestaShop Multistore, you need to configure it for each store independently. The analogy is to work with products, store configuration, work on SEO, blog, etc.
This is great for running multiple stores from one place, however, when you have 1 online store that you want to start promoting overseas, then Multistore is rather an unnecessary burden.
PrestaShop Domain Manager
PrestaShop Dom ain Manager to the rescue! Everything in one place, working automatically, conveniently and intuitively. Our module will allow you to use multiple domains in one PrestaShop store without having to enable Multistore. You embrace the basics, and our module will take care of the rest:
It will take care of redirecting old links to new domains;
It will connect and detect domains and link domains to languages and currencies available in your store;
It will take care of links and SEO for foreign search results.
How does the setup work? Cepa construction it may not be, but it can be done quickly, easily and pleasantly :) Let's assume that your PrestaShop store should run on domain.cz for Czech customers and domain.pl for Polish customers. It only takes 5 simple steps to make everything work!
Install the module in your store
Redirect additional domains to your server/store
Add redirected domains in the module
Assign languages and currencies to the domains
Use a multilingual store under multiple domains :-)
Isn't that great? To sum up: everything your international business can dream of, you have in one place! And it's automatic! You can assign the languages available in your store to a domain - the module will switch the language automatically for the domain the customer enters. Similarly, it will handle currencies and redirects to new domains!
212,50 EUR

-10%

191,25 EUR

(inc. VAT)
The module checks the language of the browser of the viewer and based on this it will quickly load the appropriate domain. The module can handle even the most intricate situations. If your services, e.g. electronic payments, are configured with a specific primary domain of your store, the module will move what you need where, so as not to make unnecessary mess. Everything works as it should and you can boldly move on!
PrestaShop store translation
PrestaShop standard will allow you to enable any languages and translate every field or description in your store in the target languages. It can be English, French, Spanish, Ukrainian or any other language. In a small store, this is a small problem - if you hire someone to translate or copy translations from online translators by hand. With a huge database of products, blog posts and regular SOE content work, translations can start to generate large costs for the store owner.

Automatic translation of PrestaShop store
A proven solution is automatic translation. A perfect solution is automatic translation at the highest technologically possible level. We have conducted tests of many translators. In terms of quality and performance, DeepL wins.
"The website DeepL was founded by Jaroslaw Kutylowski. Since its international launch in August 2017, Translator DeepL has been breaking quality records in the field of machine translation and allows you to use the full power of neural network technology DeepL."
The translator can be used to cover all elements of the store. From content in the template and modules to descriptions, links and SEO tags of products and categories.

If you want to automatically translate your store check out our PrestaShop Translator module, which will translate your entire store in up to 27 languages in just a few clicks, and make it easy to translate ongoing changes you make in your daily work with your store.
Blog posts that translate themselves
In order for your store to show up in foreign and local search results, it's worthwhile to provide interesting content aimed at SEO. With good content, your store's traffic statistics and SEO value increase. You can mix blog posts with products and post directly in any areas of your store. In running a good eCommerce blog, our blog module will help you.
We created the blog post you are reading now using the PrestaShop SEO Blog module:
Products available for selected countries only
Long-distance logistics and the nature of international markets may require you to limit the availability of certain products in selected countries that your store reaches. To set the visibility of products in your store by buyer's domain/language, you can use the following module:
Product pricing in multiple currencies
PrestaShop standard allows you to enable additional currencies in your store, such as EUR, USD, GBP, PLN, etc. Currency rates can update automatically, or you can enter rates manually.

Variables such as foreign customer service, currency conversion losses, product customization and logistics for another region may require you to provide completely different prices for products you sell in your home country. What if the prices of your products in foreign markets should have their own prices, not derived from currency conversion?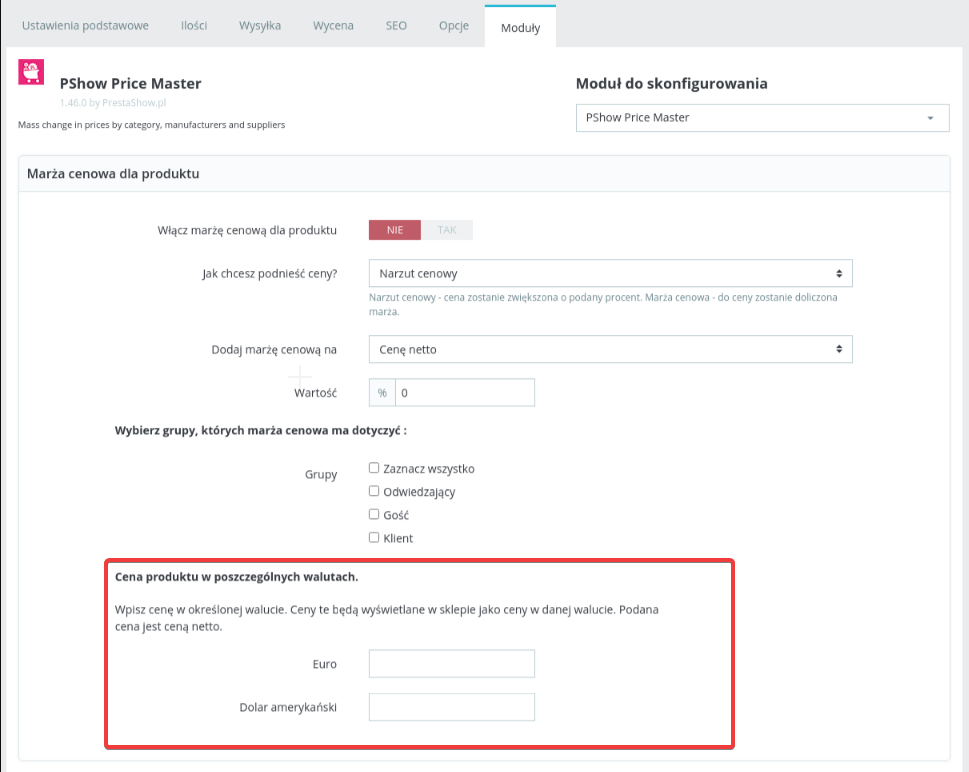 To give product prices in currencies excluding exchange rates, use the PriceMaster module. After installing the module, new fields will appear in the PrestaShop product edition, where you will be able to enter the price of products and combinations for each of the currencies enabled in your store.
Taxes and VAT rates for foreign buyers
Ok, the configuration of the store is done. All domains work correctly, currencies display as they should, everyone can see your store and products in the language of their choice. Simply a fairy tale! It's time to do a little shopping!
Receipts and invoices should be issued for orders. The basis for posting an invoice is the tax number (NIP, VAT). Its correctness is insanely important: an incorrect or unverified tax number can generate additional costs if, for example, you sell your goods without VAT to a "fictitious trader", accounting problems or wasted time spent correcting the data or contacting the buyer. And after all, this is not the point ;)
Fortunately, we have prepared a solution for this too! It just so happens that we have in our arsenal a tax number validator for B2B customers. Our module is so clever that it will automatically detect the address forms in your PrestaShop store after installation and will validate the entered tax number: TIN, VAT, VAT-EU, VAT-UK, or Company Number, which foreign B2B customers complete when placing an order.
What does this mean for you? First of all, it automates the buyer verification process and eliminates errors. The module will block the invoice data form with a wrong or inactive tax number. The customer is informed about the errors found.
Remember that VAT should be charged to domestic B2B sales and to any B2B sales. The 0% VAT rate applies ONLY to non-Polish entities with a valid tax number.
Thanks to the module, your store will be prepared for national and European Union regulations! The module will make sure that you sell with 0% VAT rate flawlessly and can issue flawless invoices.
And since we are already at invoices....
Invoice in the store - total automation!
Under the new regulations, as of May 1, 2021, the seller is exempt from the obligation to issue a printed fiscal receipt every time. It can be replaced by an electronic fiscal receipt (named invoice), which will be sent to the customer's e-mail address(source). It's worth taking advantage of!
Why rummage through piles of paperwork when everything can be done for you by a module to be installed in PrestaShop? And the benefits don't end there. If you give up receipts:
You don't transfer your data anywhere! All invoice operations take place securely in your store!
You don't have to maintain (or buy) a fiscal printer
You don't need to print and package receipts: you can receipt orders from private individuals with named invoices, i.e. classic invoices for the name of the buyer, without the given VAT/tax number, which will be available in My Customer Account and will be sent by email.
The module will issue and send invoices to Polish and foreign customers, as well as to you and your accountant
You don't need to print monthly statements that your accountant manually transcribes into your accounting program - the module will generate PDFs and a CSV statement that your accountant will upload directly into her accounting program.
Sound appealing? Read more about invoicing in online sales on our blog!
Source code optimization and technical SEO
Choosing modules is not all you can do to make your store appear on the foreign Internet. You also need to take care of good source code and the speed of your store. Optimizing PrestaShop and bringing your store up to international standards is a sizable branch of eCommerce. At PrestaShow, we keep abreast of the changes and requirements of search engines and know the standards that increase the SEO value of your store in foreign markets.
Below we list the must-haves you should keep in mind when planning to enter foreign markets:
PrestaShop store speed optimization (Page Speed, GTMetrix, Lighthouse)
Optimization of problems in Google Search Console
Duplicate links
Canonnical parameter
Hreflang parameters
Internal linking
Noindex, nofollow
Quality of content and translations
If you are interested in SEO audit for international sales, please contact us.
Get to work!
Equipped with all the necessary tools and knowledge, you can boldly enter international markets. Nothing will stop you! From domain configuration, languages to tax number validation and invoicing. Now you can focus on what's really important - leave the technicalities to us! ;)
That's not all! We are conquering foreign markets ourselves, and all the modules we have listed are the basis of our store and the stores of hundreds of our customers. Expect more super updates of PrestaShow modules!